October 30, 2010
2010-11 Season - Thrilling comeback results in narrow victory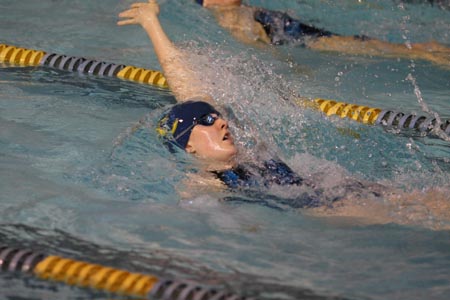 Junior Colleen Mans won the 100 backstroke and swam on two placewinning relay teams in Augustana's thrilling 101-99 win at Millikin on Saturday, October 30.
In a stirring comeback, Augustana won three of the final four events and erased a 23 point deficit over that time frame to squeak by Millikin 101-99 on Saturday, October 30 at Griswold Center. The Vikings outscored the Big Blue by a margin of 48-23 in the last four races (100 backstroke, 500 freestyle, 100 breaststroke and 200 freestyle) to come away with the win.
After Sian Wilson of Millikin won 100 freestyle in a time of :57.77, the Big Blue had what looked like a comfortable 76-53 lead with seven of the 11 races in the books. The tide started to turn in the eighth event, which was the 100 backstroke. Junior Colleen Mans (Robbinsdale Cooper HS, New Hope, Minn.) and sophomore Hollyann Kabbe (Fenton HS, Bensenville, Ill.) went one-two with Mans winning in 1:12.85 and Kabbe placing second in 1:13.65. The Vikings outscored Millikin 13-3 in the event and that cut the margin to 79-66.
Millikin's Ashley Strimbu won the 500 freestyle in 5:50.62 but Augustana kept pace by taking the next three places. Sophomore Emily Timmons (West Aurora HS, North Aurora, Ill.) took second in 5:51.63 while Elizabeth O'Hara (Westosha Central HS, Salem, Wis.) was third in 6:17.86 and freshman Danielle Harrington (Belvidere North HS, Belvidere, Ill.) took fourth in 6:40.84.
Heading into the final two events, Millikin still led by 14 points (89-75). Sophomore Molly Clennon (Benet Academy, Naperville, Ill.) won the 100 breaststroke in 1:16.90 with sophomore Alexandra Piper (Coal City HS, Coal City, Ill.) placing third in 1:23.16 and freshman Ariana Nelson (Resurrection HS, Chicago, Ill.) taking fifth in 1:30.07. Augustana outscored the Big Blue 13-6 in the event and heading into the final event the margin was now just seven points (95-88).
Needing big performances from both teams entered in the 200 freestyle relay, Johannsen's club got just that. The unit of sophomore Emma Regnier (Grayslake North HS, Lake Villa, Ill.), Clennon, junior Alissa Giedd (Freeport HS, Cedarville, Ill.) and freshman Hillary Ferguson (Waubonsie Valley HS, Naperville, Ill.) won with a time of 1:48.73. That was worth 11 points and gave the Vikings 99. Millikin's team touched the wall in 1:56.00 to take second and that gave the Big Blue four points in the event and 99 for the meet. When the second Augustana relay team of Kabbe, sophomore Mary Naughton (Fremont HS, Fremont, Neb.), Harrington and Mans finished third in 1:59.44, the Vikings had a third place finish that was worth two points and that proved to be the margin of victory.
Regnier was the only other individual winner for Augustana as she took the 200 individual medley in a time of 2:26.84 while Timmons was second in 2:29.38. Just after winning the 200 IM, Regnier got back in the water and placed second in the 100 butterfly with a time of 1:05.48 while O'Hara placed fifth in 1:20.87. O'Hara also was second in the 1000 freestyle earlier in the meet with a time of 12:42.78. Harrington was fourth in that event in 13:32.20.
The meet began with the 200 medley relay team of Mans, Piper, Timmons and Naughton taking second in 2:09.94. Clennon placed second in the 200 freestyle in 2:10.62 while Ferguson was the runner-up in both the 50 freestyle (:26.40) and the 100 freestyle (:59.38). Giedd finished third in the 100 freestyle (1:00.94) and fourth in the 200 freestyle (2:13.44). Naughton was third in the 50 freestyle with a time of :28.67 and Kabbe finished fourth in :28.84. Piper took fourth in the 100 freestyle in 1:01.39.