October 30, 2010
2010 Season - Augustana shuts out Elmhurst 2-0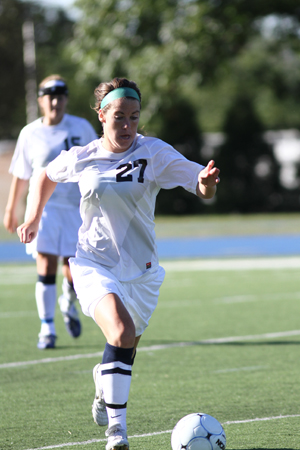 Caitlin Winkelman had a goal and an assist in Saturday's 2-0 win at Elmhurst.
ELMHURST, Ill. - Rebounding from a disappointing tie on Wednesday night, Augustana bounced back to defeat Elmhurst on the road Saturday by a score of 2-0. Ashley Higuchi (Smoky Hill HS, Aurora, Colo.) and Caitlin Winkelman (St. Charles North HS, St. Charles, Ill.) accounted for the Vikings' goals as the team improved to 13-1-4 overall and 4-1-2 in conference play. Elmhurst falls to 9-6-1 overall and 2-5-0 in the CCIW.
Higuchi got the Vikings on the board in the 30th minute with her fifth goal of the season. It came on a header off an assist from Winkelman. Augustana outshot the Bluejays by a narrow 4-3 margin in the first half, which ended with the Vikings leading 1-0.
The score stayed that way until the 85th minute when Winkelman scored her fourth goal of the season from distance to ice the victory. Augustana finished with a 10-7 edge in total shots, but a 6-1 advantage in shots on goal. Viking goalkeeper Kayla Radloff (West Chicago HS, West Chicago, Ill.) recorded her ninth individual shutout of the season and the Augustana defense blanked an opponent for the 14th time in 18 matches.
The Vikings now await a date in CCIW tournament play. They'll play on Wednesday, November 3 at a site and time to be determined.