October 30, 2010
2010 Season - Vikings fall 1-0 at Elmhurst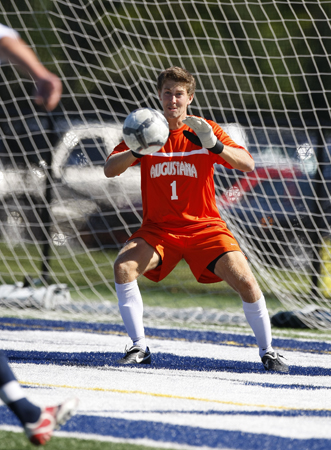 Freshman Tyler Cowherd recorded six saves Saturday, but the Vikings fell 1-0 at Elmhurst.
ELMHURST, Ill. - Elmhurst's Luke Froelich scored the game's only goal in the 25th minute as the Bluejays defeated Augustana 1-0 Saturday afternoon. Froelich's goal was enough for Elmhurst to improve to 10-8-0 overall and 3-4-0 in the CCIW, while Augustana falls to 8-10-1 overall and 4-3-0 in conference play.
Also coming up big for the Bluejays was goalkeeper Sebastian Domczewski who recorded 11 saves in the match. His counterpart for Augustana, freshman Tyler Cowherd (Bettendorf HS, Bettendorf, Iowa) was credited with six. Sean Fidlow (Carmel Catholic HS, Gurnee, Ill.) was the most active Viking offensively getting off six of Augustana's 16 shots in the match, three of which were on goal.
The Vikings finished with a 16-15 edge in total shots and an 11-7 edge in shots on goal. Elmhurst got the better of it in corner kicks by a 5-1 margin. Fouls were even at 12.
Next up for the Augustana is semifinal play in the CCIW tournament. The Vikings will be on the road Wednesday, November 3 against an opponent yet to be determined.