October 30, 2010
2010 Season - Augustana takes second at CCIW meet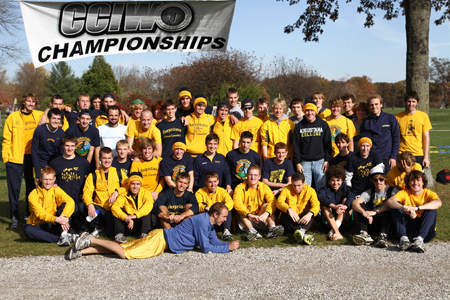 Augustana's men's cross country team finished second at Saturday's CCIW Championships.
ROCK ISLAND, Ill.- Matt Bowman (Geneva HS, Elburn, Ill.) garnered a ninth-place finish Saturday, helping host Augustana to a second-place team finish at the CCIW Championships at Saukie Golf Course in Rock Island, Illinois. North Central had seven of the top eight finishers to capture its 37th consecutive conference title with 17 points. Augustana was next with 67.
Bowman finished in a time of 24:52.0. The Vikings' Jonathan Smith (Moline HS, Moline, Ill.) was just two spots back with an 11th-place 24:55.4. Mike Tisza (Hersey HS, Prospect Heights, Ill.) finished in 25:18.2 to take 16th place while Brian Pollastrini (York HS, Elmhurst, Ill.) was 20th in a time of 25:30.5 and Nathan Smith (Fenton HS, Bensenville, Ill.) right behind in 21st with a clocking of 25:33.2.
Juniors Billy Wisser (Hersey HS, Mt. Prospect, Ill.) and Billy TenBusch (Prairie Ridge HS, Cary, Ill.) rounded out the Vikings' top seven. Wisser's 25:34.9 earned him a 23rd-place finish while TenBusch was 24th in 25:45.8.
Brad Keating (Cary-Grove HS, Cary, Ill.), Thomas Christian (Port Angeles HS, Port Angeles, Wash.) and Brandon Gittelman (Naperville Central HS, Naperville, Ill.) rounded out the field of Vikings. Keating's 26:05.8 was good for a 28th-place finish. Christian took 37th with a 26:45.4 and Gittelman's 26:58.5 earned him 42nd place.
On Saturday, November 13, the Vikings will be hosting the NCAA Midwest Regional at Saukie Golf Course in Rock Island, Illinois.