Getting 'immersed' — one class for one term
November  01, 2010
Augustana Photo and Video Bureau/Marla Alvarado-Neuerburg
What would it be like if you could choose to concentrate on a single class for an entire term? Augustana students and faculty who tried the first "immersion term" found it exhilarating, real-world, community-building and sometimes exhausting.
Hydroecology and neurophilosophy were offered as 10-week immersion terms this fall in an effort to measure how high-impact learning projects affect faculty work and teaching.
Hydroecology examines the interaction between ecological systems and rivers and floodplains. Neurophilosophy looks at the human brain through science, humanities and the social sciences.
In both courses, students liked having the time to move between the classroom and field experiences.
"We are not just learning out of a book. We are learning in the field. We are in the river touching fish. We can see the big picture more," said senior Brittany Prazak, a biology and environmental studies major. She participated in the hydroecology term.
"In a normal science class, we talk a lot about content — what people have learned in the past that gets into our textbooks," said Dr. Reuben Heine, one of the two professors who taught hydroecology. "The immersion term allows us to participate in being scientists and doing science. The students are taking more control of their learning."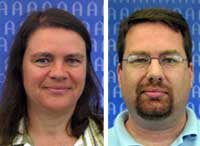 Dr. Heidi Storl and Dr. Ian Harrington
"It is truly interdisciplinary learning," said Dr. Heidi Storl, a philosophy professor and one of two instructors for the neurophilosophy term. "Though we have set topics that need to be covered, we find that many of these topics arise in the course of our discussions. We are not forced to march to an overly planned syllabus."
Dr. Ian Harrington, the second neurophilosophy instructor and the co-director of Augustana's new neuroscience major, agreed. "I think the clearest advantage of the immersion experience is its depth, freedom, and flexibility. We have a lot of class time — up to 20 hours per week — but it rarely feels like we are watching the clock.
"The experience is both exhilarating and exhausting, and isn't that what college is supposed to be?"
Part of the success of the neurophilosophy immersion stemmed from the interdisciplinary nature of the subject. "Neurophilosophy lives where the natural sciences, social sciences and humanities intersect," Dr. Harrington explained. "We are interested in brains and what they mean for people who have them."
The result is a mix of philosophical and real-world ethical questions, such as "What does it mean to be conscious?" "Why do some people have a tendency toward violent behaviors?" "Is electroconvulsive therapy justified?"
To get at these questions, students in the neurophilosophy program had classroom discussions, but also interviewed area health and ethics practitioners, visited a neurosurgeon, worked in the cadaver lab on campus, and attended the Brain Injury Association of Illinois' annual conference.
"Students left with a top-down, bottom-up knowledge about brain and behavior, philosophy of mind, and the clinical ethical issues related to each," said Dr. Storl.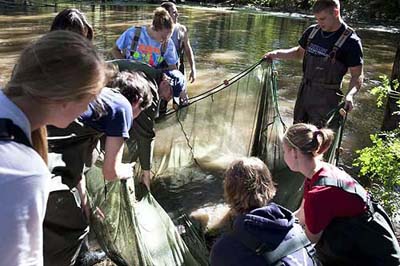 Students seining for samples of aquatic life on the Mississippi.
Hydroecology took advantage of Augustana's location along the Mississippi River. Led by Dr. Heine of geography and Dr. Kevin Geedey of biology, students gained hands-on experience in hydrology, aquatic biology, geology, and water resource management.
Highlights of the hydroecology term included a three-day trip to Cincinnati and Chicago, interviews with representatives from the Environmental Protection Agency, and countless hours on Augustana's "floating classroom" (boat) on the Mississippi.
Although all Augustana science programs involve hands-on learning, the flexibility of immersion term allowed students to have field experiences that normal one- to two-hour labs don't.
Dr. Geedey pointed out another benefit. "This kind of class is a good fit for Augustana," he said. "It provides a sense of vocational reflection. We get a lot closer in this class to asking, 'What is it like to be an environmental scientist?'"
Students and professors of both classes emphasized the sense of community that has emerged from their immersion experiences. "There is really a shared sense of adventure in the class," Dr. Geedey said. "It's been an enormous amount of fun not to know exactly what each day will bring."
Teagle Foundation study
Augustana received its second grant from the Teagle Foundation to find out how high-impact learning projects affect faculty work and teaching. Other colleges in the Midwestern Alliance for Learning in the Liberal Arts also received grants for the same purpose. Augustana is using immersion terms as its measurement, but other colleges are trying various things, such as first-year seminars, experiments in advising, or simply requiring more writing of draft papers in a particular class.
"Immersion terms seemed like logical extension of learning communities we're already doing," said Dr. Margaret Farrar, Augustana associate dean.
She said neurophilosophy was already offered as a "learning community" — a set of linked courses taken by the same students — making it a good candidate for an immersion term. Hydroecology was chosen because the instructors were interested in providing the maximum amount of time in the field for science students.
The two immersion terms will be offered again next year, Dr. Farrar said. She said faculty and administrators have not decided yet whether Augustana should expand the immersion terms or offer them more broadly after that.