October 28, 2010
2010-11 Season - CCIW women's basketball poll released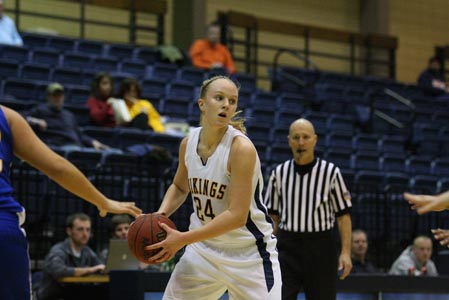 Natalie Runge, the 2009-10 Augustana MVP, is one of four returning starters back for the Vikings this season. The CCIW coaches poll was released on Thursday.
The basketball coaches in the College Conference of Illinois and Wisconsin have picked defending league champion Illinois Wesleyan as the favorite to win this year's title. Coach Bobbi Endress' Augustana Vikings were tabbed for eighth with 11 points.
Illinois Wesleyan, which won the 2009-10 CCIW title with a 13-1 league record, was picked to win once again with 47 points and five first place votes. Carthage, second a year ago at 12-2, collected 45 points and three first place votes in second. Millikin, 9-5, was third with 35 and Elmhurst, 10-4, was fourth with 33. Wheaton, 6-8, was fifth with 25 points while North Central and North Park, both 2-12, were tied for sixth with 14 points.
Augustana, which went 7-18 last year for its highest victory total since 2003-04, tips off the 2010-11 season with a home game on November 16 against Coe at 7:30 p.m. in the Carver Center.
2010-11 CCIW Coaches' Poll—Women's Basketball
| | | |
| --- | --- | --- |
| School | Total Points | First Place Votes |
| Illinois Wesleyan | 47 | 5 |
| Carthage | 45 | 3 |
| Millikin | 35 | |
| Elmhurst | 33 | |
| Wheaton | 25 | |
| North Central | 14 | |
| North Park | 14 | |
| AUGUSTANA | 11 | |