October 28, 2010
2010-11 Season - Wrestlers looking forward to 2010-11 season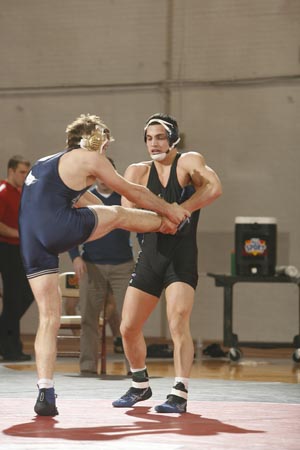 Alex Vavra was second on the Vikings in individual victories a year ago and finished 24-19. He was second in the CCIW at 174 pounds.
This will be his fourth year as the head coach of the Augustana wrestling program and Eric Juergens know that his team continues to build a strong foundation. The Vikings are coming off back-to-back third place finishes in the College Conference of Illinois & Wisconsin and the team's dual meet win total has climbed every year since he took over. Blend that together and you get an optimistic approach to the 2010-11 campaign from the former two-time NCAA Division I national champion at Iowa.
"We had a very good recruiting class and we also like the way our returnees have been working," said Juergens, who holds the official title of Terry & Sandy Shockley Wrestling Coach at Augustana. "There are certainly a lot of factors that can lead to a successful season with injuries and weight class balance factoring in. We do think the pieces are in place for this team to have a good year."
Youth will still be prevalent for the Vikings with just three seniors, Kyle Brodwater (St. Joseph Hamm HS, Medford, N.J.), Alec Rizzo (Fremd HS, Palatine, Ill.) and Matt Nykaza (Brother Rice HS, Oak Lawn, Ill.), on the roster. There are seven freshmen and 10 sophomores on the roster.
"We are getting better every day," said Juergens. "The competition inside the wrestling room has gotten better each year that I have been at Augustana and that will pay off for us down the road."
The Vikings lost just two starters (George Gogonas at 125 and Zac Holland at 157) from a team that went 5-10 a year ago and scored 51.5 points to finish third in the CCIW tournament. Augustana also landed its first NCAA Division III national meet qualifier since 2005 when Gogonas placed third in the NCAA West Regional at 125 pounds.
WEIGHT CLASS BREAKDOWN
125 – Senior Kyle Brodwater (St. Joseph Hamm HS, Medford, N.J.) is back after missing last year with an injury. He was 20-12 in 2008-09, finished second in the CCIW at 125 and was voted the team's "Hardest Worker". He will be challenged by freshman Jacob Scholten (Rockford HS, Grandville, Mich.).
133 – Sophomore Greg Gogonas (Bowie HS, Austin, Texas) is a transfer from Eastern Michigan and the younger brother of George. He has been very impressive during the early going. Freshman Brad McDermott (Davenport Assumption HS, Davenport, Iowa) has a "high ceiling" according to Juergens and he will provide good competition for Gogonas.
141 – Junior Alberto Quiros (Morton HS, Cicero, Ill.) has a tremendous work ethic and has been the team's "Hardest Worker" each of the last two seasons. He was 15-17 a year ago and placed third in the CCIW. Sophomore Steve Poffenberger (Allegan HS, Paw Paw, Mich.) was second in the CCIW last year at 133 pounds and recorded a 22-18 overall record. He will bump up a weight class this season. Sophomore Tyler Hernandez (Bloomington HS, Bloomington, Ill.) wrestled in 17 matches last year during his freshman season and he will be in the mix as well.
149 – Senior Alec Rizzo (Fremd HS, Palatine, Ill.) is the returning starter in this weight class and he was 6-17 last year. He will get a push from the freshman duo of Mitch Musgrove (Orion HS, Andover, Ill.) and Justin Hoffman (East Buchanan HS, Winthrop, Iowa).
157 – Freshman Jordan Graham (Big Rapids HS, Fremont, Mich.) has been a pleasant surprise at 157 pounds. Juergens thinks he has the talent to compete at a very high level.
165 – The 165 pound weight class is wide open with sophomores Matt Burns (Naperville Central HS, Naperville, Ill.) and Ian Knepshield (Shady Side HS, Ford City, Pa.) and freshman David Solis (Iowa City West HS, Iowa City, Iowa) involved in spirited competition for the starting spot. Burns was 8-12 and Knepshield 4-10 a year ago.
174 – Sophomore Alejandro Vavra (Gull Lake HS, Dowling, Mich.) had the second highest wins on the team last when he went 24-19 and was second in the CCIW. Junior Matt McIntyre (West Carroll HS, Savanna, Ill.) and sophomore Cody Heche (Cary-Grove HS, Cary, Ill.) will provide depth.
184 – Sophomore Hunter Feraco (Gull Lake HS, Battle Creek, Mich.) wrestled in 33 matches last year and he might be the most improved wrestler on the team. He is poised for a breakout season in 2010-11 after finishing third in the CCIW at 197 a year ago.
197 – Senior Matt Nykaza (Brother Rice HS, Oak Lawn, Ill.) finished third in the CCIW at 184 a year ago and was 12-15 overall. Sophomore Matt Regnier (Riverside-Brookfield HS, Riverside, Ill.) has made progress and could factor in at this weight class.
285 – Sophomore George Papandreou (Waukegan HS, Waukegan, Ill.) was the regular at 285 last year but he will be pushed by freshman Abraham Duran (East Aurora HS, Aurora, Ill.).