Call to service cuts across religious boundaries
Augustana students return from Interfaith Institute with goals, enthusiasm
October  28, 2010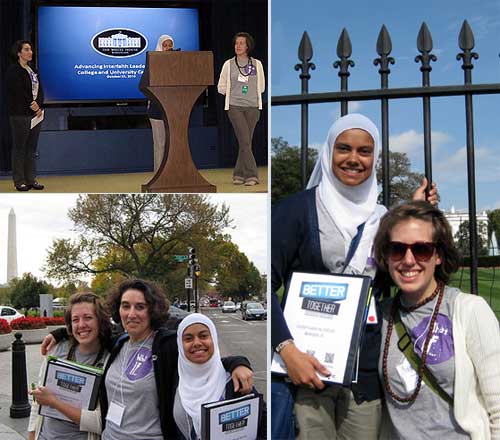 Above: Maggie Hayes, left, Dr. Sarah Skrainka and Hiba Ansari get a snapshot with the Washington Monument in back. At right, Hayes and Ansari in front of the White House; and top left, the three on stage at the Interfaith Leadership Institute.
With only a few hours' notice, Hiba Ansari and Maggie Hayes were plucked out of 100 or so students at a prestigious White House interfaith conference and asked to say a few words on stage.
They did, and so well that faculty advisor Sarah Skrainka was inundated afterward by people saying things like, "Your students were the high point of the conference" and "You're really doing something right at Augustana."
Ansari, Hayes and Dr. Skrainka, travel-lagged but still fired-up, arrived back on campus this week after attending a training session offered by the Interfaith Leadership Institute, hosted by the White House Office of Faith-Based and Neighborhood Partnerships.
The training is designed to give student leaders and college staff the skills to lead interfaith and community service projects. The Interfaith Youth Core, sponsor of the institute, calls it the "Better Together" campaign, helping students to speak out about interfaith social action and organize fellow students.
The idea is to bring people of various faiths together to work on "common action projects" that will benefit the community. In other words, said Hayes, "It doesn't matter if you are of different faiths if you're helping the homeless."
"We, at Augustana College, commit to producing interfaith service projects that unite our faith and non-faith based student groups in contributing to our community at least once a month."

-- Statement of purpose written
by Hiba Ansari; each school at the IFYC conference drafted its own.
See other statements at the
We Are Better Together Facebook page
Ansari, a first-year student from Clinton, Iowa, is Muslim. She chose Augustana because she wanted to encourage religious understanding and believed that adding to the small Muslim population here would accomplish more than becoming one of a large group elsewhere.
"I was shocked at the openness of the Augustana students," she said. "I did not expect that."
Hayes, a junior from Lebanon, Conn., grew up in a Christian faith but doesn't put a name on her beliefs now. "I have a long religious history," she said with a smile.
They proudly said that Augustana's interfaith efforts are "way ahead" of most colleges. Augustana has had an active Interfaith Understanding Group of faculty, staff and students for several years, working with Campus Ministries and Muslim and Jewish student groups. In 2009, for the first time the college included interfaith scripture readings and prayers as part of its baccalaureate service.
The two students emphasized that interfaith doesn't mean trying to change anyone's religious belief or non-belief. "It's a myth that in the end you expect a melding of beliefs," said Hayes.
Ansari pointed out that the goal is acceptance. "One girl at the conference said it: 'I want to be accepted, not just tolerated,' " she explained
Dr. Skrainka talked with faculty and staff from other colleges about subjects that probably didn't occur to the enthused students from all 50 states and several countries.
"Members of a number of our sister Lutheran colleges were present, so that we were able to discuss our specific concerns -- concerns that were echoed by chaplains at other institutions with a religious affiliation," she said. "What came across very strongly is that we all view interfaith and interbelief cooperation as an expression of what is best in our Lutheran values.
"As educators, we would be doing our students a great disservice not to prepare them to work in a complex and diverse world. As thoughtful individuals, we would similarly fail were we to withhold from students the sort of self-knowledge and discovery that comes only through contact with others unlike ourselves."
Interfaith Youth Core was founded by Eboo Patel in Chicago in 1990 as a way to increase awareness of interfaith issues and empower young people to be leaders in the effort. Patel served on the Advisory Council of the White House Office of Faith Based and Neighborhood Partnerships.
A poem written and performed by Maggie Hayes
at the Interfaith Youth Core Better Together campaign:
Dedication:
For those who clasp hands to hold flowers and not to make fists.
He said to us, "Injustice anywhere is a threat to justice everywhere." 

From the Birmingham jail he saw this world overflowing with  words

and flowers and nations and peoples

and hands ...

Why do we disgrace ourselves

dropping bombs in the laps of our mothers?

Can we not taste the blood on our fingertips

                        and in our own mouths?




Maybe that will fill us up—

Instead of these distended bellies like

Tanks of gasoline ... 




"Fill 'er up," she said from the heat seat of

  the humm3, 2, 1 ...

      change the channel when she hears about

      chemical gasses filling lungs of little ones.

      This is a Public Service Announcement:

                          This is NOT a test.




We cry out from behind bars

      When we cannot see, everyone is blind.

      When we cannot speak, everyone is                    silenced.

      When one belly is empty




                                         No  one is full.




Every

     One

        Counts.




So stand up and be counted.

Salaam, shalom, shanti

Peace.