October 27, 2010
2010 Season - North Central battles Augustana to a 1-1 tie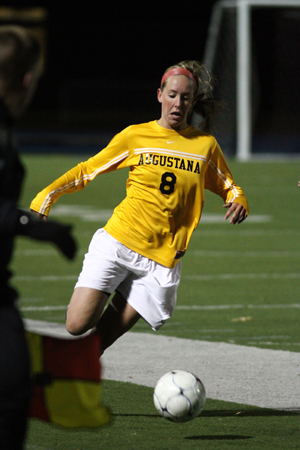 Taylor Moesle scored the Vikings' lone goal in a 1-1 tie with North Central Wednesday night at Ericson Field.
ROCK ISLAND, Ill. - Despite outshooting the visitors from North Central by a 33-8 margin, Augustana was unable to hold on to a late lead and ended up having to settle for a 1-1 tie with the Cardinals Wednesday night at Ericson Field. The Vikings are now 12-1-4 on the year and 3-1-2 in the conference. North Central is 6-8-2 overall and 0-4-2 in CCIW play.
Augustana outshot the Cardinals 10-5 in the first half despite heading into a fierce wind. The Vikings best opportunity occurred in the 14th minute when Ashley Higuchi (Smoky Hill HS, Aurora, Colo.) had a point blank look, but her shot was stopped by North Central goalkeeper Amy Frazzini. After 45 minutes, neither team had found the net and they went to halftime in a scoreless tie.
With the wind at its back in the second half, Augustana got off 21 shots and finally got on the board in the 69th minute when Taylor Moesle's (Sandburg HS, Orland Park, Ill.) blast from 25 yards snuck inside the right post. The goal was Moesle's team-high 12th of the season.
The lead lasted until the 85th minute when the Cardinals' Elizabeth Koet fired a long shot on goal that Augustana goalkeeper Kayla Radloff (West Chicago HS, West Chicago, Ill.) stopped initially, but couldn't control. The ball was then inadvertently kicked into the goal by a Viking defender attempting to clear it. Koet was credited with her first goal of the season and it came on just the second shot of the half by North Central.
Neither team could score in either overtime period, with Augustana having the wind advantage in the first 10-minute session and the Cardinals gaining it in the second.
Augustana travels to Elmhurst on Saturday, October 30 for a match with the Bluejays. Game time is 1:00 p.m.