October 27, 2010
2010 Season - Augustana hosts 17th ranked Wheaton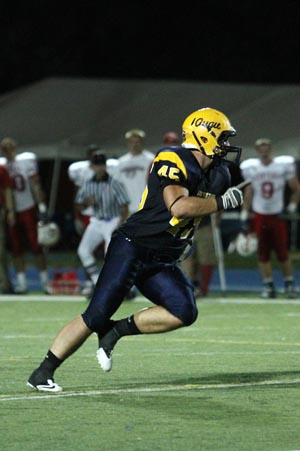 Linebacker Joe Weber and the Vikings will be looking for their first home victory of the 2010 season after winning five straight road games. The opponent this Saturday will be undefeated and 17th ranked Wheaton.
After winning its fifth straight road game in 2010, the Augustana football team will be looking for its first home win of the season, returning to Ericson Field this Saturday for a showdown with undefeated Wheaton. The Vikings won 21-0 at North Park Saturday, beating their namesakes from Chicago for the 39th consecutive time.
Now 5-2, the Vikings will be facing a ranked opponent for the third time in three home dates this season. Central and North Central were both ranked seventh in the nation when they won, 28-23 and 34-14 respectively, at Ericson Field earlier this year. Wheaton comes in 7-0 overall, 4-0 in the CCIW, tied with North Central for the conference lead and ranked 17th in the nation in the latest D3Football.com poll. The Vikings' win at North Park combined with an Illinois Wesleyan loss at North Central last Saturday leaves Augustana alone in third place in the conference at 3-1.
Wheaton is fresh off a come-from-behind win at home against Carthage Saturday night. The Thunder scored 24 unanswered points in the second half to erase a 24-7 halftime deficit and claim a 31-24 win. Wheaton has won its first seven games of 2010 despite having to replace five first team and one second team All-CCIW players from a year ago. The Thunder do return 2009 second team all-conference performers Brian McMullen, a junior free safety, Nick Biggee, a senior center, and Freddy Ellis, a fifth-year senior wide receiver. 2008 first team All-CCIW running back Rocky Gingg is also back after injuries derailed him last season.
In all games, the Thunder are averaging a league-best 38.3 points per game and in four league games have averaged a conference-best 432.0 total yards per game. Dual-threat sophomore quarterback Jordan Roberts leads the way. Roberts has not only completed 65.5% of his passes for 1,103 yards and 11 touchdowns, but has been as much (if not more) of a threat running the ball, with 358 yards and two touchdowns on 47 carries—an average of 7.6 yards per carry. He has absorbed just 11 lost rushing yards all year due not only to his own mobility, but a veteran offensive line led by Biggee. Gingg is the team's leading rusher with 397 yards and five touchdowns on 94 carries (4.2 ypc). Peter Jarrett (72-298-1) and Joey Skogen (46-236-1) have also seen significant time in the backfield. Teddy Watkins with 27 catches, Ellis with 424 receiving yards and Austin Zoerhof with four touchdown grabs, have been the Thunder's top receivers.
Defensively, Wheaton has allowed 18.5 points per game in four league contests—tied with Augustana for second in the conference. The Thunder are fourth in the league in total defense, allowing an average of 316.5 yards per game. Linebacker Jordan Chapman has been the team's leading tackler with 40. Linebacker Cory Hart has made seven of the team's 62 tackles for loss this season and defensive End J.D. East leads the team with five sacks. Defensive backs Tyler and Jordan Langs have each intercepted a team-high three passes and Tyler leads the Thunder with eight pass break-ups. Tyler Langs averages a whopping 19.4 yards per punt return as well.
While Augustana had something of an off-week offensively, it got another outstanding effort from its defense against North Park. Senior linebacker John Mago (Cary-Grove HS, Cary, Ill.) has been at the forefront all year, leading the team with 30 solo tackles, 44 assists and 74 total tackles. Sophomore linebacker Joe Weber (Marmion Academy, South Elgin, Ill) has been a big playmaker with team-highs of 12 tackles for loss and eight quarterback sacks. Senior defensive end Curt Perschnick (Dwight HS, Dwight, Ill.) is second on the team in tackles (43) and tackles for loss (six) and leads with three fumble recoveries. Sophomore free safety Rob Mago (Cary-Grove HS, Cary, Ill.) came up with his third interception of the season Saturday, tying him with junior free safety Ben Hall (University HS, Normal, Ill.) for the team lead. As a team, the Vikings ranked second in the CCIW in scoring defense (tied with Wheaton at 18.5 ppg), second in pass defense (158.8 ypg), fourth in rushing defense (140.8 ypg) and third in total defense (299.5 ypg).
Despite a bit of an off-day Saturday, Viking quarterback David Lee (Springfield HS, Springfield, Ill.) still leads the CCIW in total offense with an average of 270.0 yards per game in league play. For the season, the junior has thrown for 1,687 yards (third best in school history) on 131 completions in 204 attempts (64.2%). Most impressive is the fact that he's thrown just three interceptions against 15 touchdowns passes. He's closing in on Ken Anderson's school-record of 20 scoring tosses, set in 1968.
Lee has spread the wealth among five main targets. Senior wide receivers Corbett Ball (Buffalo Grove HS, Arlington Heights, Ill.) and Kyle Hundman (Bloomington Central Catholic HS, Bloomington, Ill.) have been the most frequent, with Ball catching a team-leading 36 passes for 427 yards and two scores and Hundman grabbing 30 receptions for 291 yards and one touchdown. Junior Zach McCullough (St. Charles North HS, St. Charles, Ill.) has been the big play threat, catching 17 passes for a team-high 443 yards (26.1 yards per catch) and six touchdowns. Tight ends Keith Abbey (Rich East HS, Park Forest, Ill.), a senior, and Jack Gilleland (Marin Central HS, Bull Valley, Ill.), a junior, have excelled in the red zone, snaring 12 passes each with three of Abbey's and one of Gilleland's going for touchdowns.
Senior running back Robert Wood (Rockford Boylan HS, Loves Park, Ill.), who battled injuries early in the season, has enjoyed a resurgence, averaging 86.3 yards per game in conference play to rank fourth in the league. He's also second in the CCIW with five rushing touchdowns and is tied for the conference scoring lead with six total touchdowns. In all games, Wood has rushed for 410 yards and six touchdowns on 102 carries.

LAST WEEK'S GAME: 10/23/10—AUGUSTANA 21, NORTH PARK 0
Vikings ride defense to a win over North Park
CHICAGO, Illinois - A week after setting a school record for passing yards at Carthage, the Augustana offense sputtered slightly on Saturday. However, another solid performance by the Viking defense was enough to ensure the team's 39th consecutive win over North Park, 21-0 at the Holmgren Athletic Complex in Chicago.
The Viking defense limited the hosts to just 154 total yards (93 rushing and 61 passing) in the contest and forced three North Park turnovers. Linebackers John Mago (Cary-Grove HS, Cary, Ill.) and Joe Weber (Marmion Academy, South Elgin, Ill) again led the way. Mago was in on a team-high 11 stops, while Weber recorded nine total tackles including a pair of sacks, giving him a team high of eight on the year.
With the Augustana running game depleted by injuries to three of its top four backs, the load fell entirely on senior Robert Wood (Rockford Boylan HS, Loves Park, Ill.), who responded with 111 yards and a pair of touchdowns on 22 carries. He put Augustana on top with a 20-yard scoring burst with 21 seconds remaining in the first quarter. That capped a four-play, 63-yard drive which also included a 30-yard connection between quarterback David Lee (Springfield HS, Springfield, Ill.) and wide receiver Zach McCullough (St. Charles North HS, St. Charles, Ill.).
The same combination accounted for the second Augustana score when Lee and McCullough teamed up for a 42-yard touchdown pass with 10:18 left in the half. That play finished off a six-play, 67-yard drive. North Park's only real scoring threat in the first half ended when Augustana blocked Anthony Kebede's 42-yard field goal attempt with 24 seconds left in the half.
After stopping the Vikings on downs midway through the third quarter, North Park drove to the Augustana 32-yard line. But on third-and-11, Mitch McGilliard (Neuqua Valley HS, Naperville, Ill.) intercepted a Tyler Krebs pass to end the threat.
Rob Mago's (Cary-Grove HS, Cary, Ill.) third interception in the last two games set up Augustana's final score. Taking over at their own 29, the Vikings went 71 yards in just four plays with Wood finishing it off from four yards out with 10:11 remaining in the game. The key play on the march was a 55-yard Lee-to-Corbett Ball (Buffalo Grove HS, Arlington Heights, Ill.) completion.
North Park drove to the Augustana 30 with just under four minutes remaining, but freshman Kyle Voda (Plainfield South HS, Plainfield, Ill.) sacked quarterback Evan Rhoads, stripping him of the ball and recovering the fumble himself to put the finishing touches on the Vikings' fifth consecutive road win.
After throwing for a school-record 429 yards at Carthage last week, Lee (Springfield HS, Springfield, Ill.) finished the game with 11 completions in 24 attempts for 175 yards and one touchdown. He didn't throw an interception and now has a 15-to-three touchdown-to-interception ratio for the season.
The Vikings, now 5-2 on the year and in sole possession of third place in the CCIW at 3-1, will try and get their first home win of the season when they host the Wheaton Thunder on Saturday, October 30. Game time at Ericson Field is scheduled for 1:00 p.m.

AUGUSTANA-WHEATON SERIES NOTES: Augustana leads this series 29-23-2...Wheaton won last year's meeting 24-17 in Wheaton...Wheaton led this series 9-2-2 after a 14-13 win in 1968 but since that time Augustana has victories in 27 of the last 41 games played...The 2000 game was a double overtime affair that allowed the Thunder to clinch a tie for the CCIW title on the final game of the season...In 2001 the Thunder scored on the final play of the game to hand the CCIW champion Vikings their only regular season loss...Both the 2003 and 2004 games as well as last year's were decided in the closing seconds.
LAST YEAR'S GAME: 10/10/09—WHEATON 24, AUGUSTANA 17
Augustana loses heartbreaker
WHEATON, Illinois – The 4th-ranked Wheaton Thunder football team scored in the game's final minute Saturday to hand Augustana a 24-17 defeat. When Sean Norris connected with Andy McClain on a 26-yard scoring strike with 0:18 left, it marked the fifth time in the last ten years that the Thunder beat the Vikings by putting the winning score on the board with under a minute left in the game.
Key for the Thunder in the win was the job its defense did against Augustana's ground game. The Vikings came in averaging a shade over 200 rushing yards a contest, but could manage just 32 net yards on 29 carries Saturday. Leading rushing Robert Wood (Rockford Boylan HS, Loves Park, Ill.), who came in with 373 yards on the season and an average of 5.7 per carry, was held to 18 yards on 15 carries by the stingy Wheaton defense. Quarterback David Lee (Springfield HS, Springfield, Ill.) threw for a career-high 249 yards, completing 18-of-31 pass attempts, but the Vikings missed on three scoring opportunities that would prove costly.
Augustana took the opening kickoff and quickly forged a 3-0 lead. On the first play from scrimmage, Lee connected with Jake Parke (St. Joseph-Ogden HS, St. Joseph, Ill.) for a 55-yard gain to the Wheaton 26. The Vikings then hurt themselves with a delay-of-game penalty and, despite a 13-yard completion from Lee to Parke, were unable to convert another first down. Ryan Gibbons (Richwoods HS, Peoria, Ill.) banged in a 36-yard field goal through a stiff wind to give Augustana the lead.
After forcing a Wheaton punt, the Vikings put together an impressive drive, using a pair of 14-yard bursts by Henry Deters (Unity HS, Tolono, Ill.) and a Lee to Matt Downing (Morton HS, Morton, Ill.) completion of 13 yards to move from their own 12 to the Wheaton 31. However, when Lee's next pass was deflected, Wheaton's Jon Sesso was able to come up with the interception to end the Augustana threat. Norris made the Vikings pay by hooking up with Teddy Watkins for a 71-yard touchdown pass as Wheaton faced a 3rd-and-12 at its own 29 yard line. Scott Roche's point after gave the Thunder its first lead at the 5:19 mark of the first quarter.
Augustana regained the lead just before the end of the first period when Wood pushed in from two yards out. That score was set up when the Vikings' Shane Holl (Batavia HS, Batavia, Ill.) picked off a deflected Norris pass and returned it to the Wheaton 25. It took the Vikings just four plays to reach the end zone. Gibbons' kick made the score 10-7 after one.
The Thunder evened the score less than four minutes into the second quarter when a 30-yard field goal from Roche capped a nine-play, 40-yard drive. Augustana put together the only other scoring threat in the first half when they went 38 yards in seven plays. However, facing fourth-and-two from the Thunder 22-yard line, the Vikings decided on a field goal try. Gibbons, kicking with the wind this time, pushed the 39-yard attempt wide right and the teams went to halftime tied 10-10.
The Vikings missed another golden opportunity early in the second half. Sesso fumbled the opening kickoff and Augustana recovered at the Wheaton 30. However, after driving to the eight-yard line, Gibbons' hooked a 25- field goal attempt wide left on fourth down and the Vikings came away empty.
Wheaton then went on a seven-play, 80-yard drive which culminated with a 38-yard touchdown pass from freshman Jordan Roberts—Norris' back-up—to Watkins, giving the Thunder a 17-10 lead with 9:04 left in the third quarter. The teams traded punts for the rest of the period and the next scoring opportunity came early in the fourth quarter when Wheaton drove to the Augustana seven, but a pair of penalties pushed the Thunder back and on fourth-and-19, Roche's 37-yard field goal attempt went wide left.
After the teams again traded punts, Lee took the Vikings 74 yards, connecting on passes of 44 yards to Downing and 30 yards to Zach McCullough (St. Charles North HS, St. Charles, Ill.). McCullough's catch went for a touchdown and Gibbons' kick evened the score 17-17 with just over eight minutes left.
Neither team could string together string together more than five plays on each of its next two drives and Wheaton eventually took over at its own 14 with 2:43 remaining. Norris skillfully guided the Thunder 86 yards, completing five of six passes for 63 yards on the drive with the final completion going to McClain for the game- winner with 18 seconds left.
Augustana was unable to put anything together after the ensuing kickoff and Wheaton came away with the 24-17 win.
Norris threw for 280 yards in the game and the Thunder running back combination of Rocky Gingg and Charlie Velling helped Wheaton rush for 144 yards on the day. Deters led the Augustana ground game with just 30 yards on three carries. Parke was Lee's favorite target, catching eight passes for 107 yards. A couple of Vikings had big days defensively as linebacker Eric Meyer (Harlem HS, Machesney Park, Ill.) recorded 14 tackles, including 10 solo, and nose guard Jeff Daisy (Thornton Fractional South HS, Lansing, Ill.) had 3½ sacks for 21 yards in losses.
The Vikings return home next Saturday, October 17 to face Illinois Wesleyan on homecoming. Game time for that contest is 1:00 p.m.
HEAD COACH JIM BARNES
Jim Barnes is in his 11th season as the head coach at his alma mater (class of 1981). He has compiled a record of 78-32 (.709) during his career at Augustana, including a 5-2 mark this year. Overall, he has a mark of 115-45 (.719) in 16 years as a college head coach and that includes a 37-13 record at College of Wooster from 1995-99. During his years at Augustana his teams have gone 55-19 (.743) in the College Conference of Illinois & Wisconsin with league titles in 2001, 2005 and 2006. The Vikings have participated in the NCAA Division III national playoffs in 2001 and 2005.