October 26, 2010
2010 Season - Vikings fall at ranked Millikin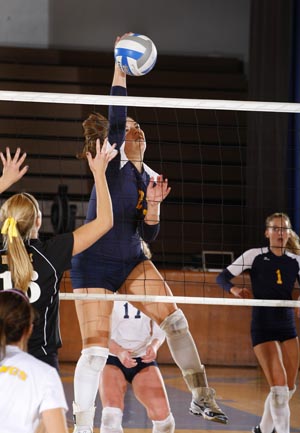 Freshman Morgan Stittleburg had seven kills in Augustana's 3-1 loss at 27th ranked Millikin on Tuesday, October 26. The Vikings are now 10-17 overall and 4-3 in the CCIW.
Augustana dropped its final College Conference of Illinois & Wisconsin match on Tuesday, October 26, falling to Millikin by a score of 3-1 in Decatur, Illinois. The Vikings won the first game 25-22 before dropping the next three sets by counts of 25-15, 25-10 and 25-17.
Senior Courtney Jungnickel (Naperville Central HS, Naperville, Ill.) led Augustana in kills with eight and she also had 12 digs and two service aces. Freshman Morgan Stittleburg (Black River Falls HS, Black River Falls, Wis.) was next in the kills department with seven and she also had two assisted blocks and a dig. Junior Brianna Skeens (Vernon Hills HS, Libertyville, Ill.) had five kills.
Sophomore Kelsey Mikula (Coal City HS, Coal City, Ill.) led the team in setting assists with 15 and also had seven digs and a service ace. Freshman Katrina Colclasure (Tri-Valley HS, Bloomington, Ill.) had 11 assists and 14 digs.
Sophomore Shannon Slick (Rockton Hononegah HS, Roscoe, Ill.) recorded 19 digs and one setting assist. Freshman Kristen Yerkes (Marist HS, Palos Heights, Ill.) was credited with four kills, 13 digs and two service aces. Sophomore Sarah Williams (Rockford Lutheran HS, Rockford, Ill.) had three total blocks with one solo and two assists. She also had a pair of kills.
Augustana is now 10-17 overall and 4-3 in the CCIW and will participate in the Benedictine Invitational this weekend in Lisle, Illinois.