Gottschling inducted into American Academy
1977 graduate researches aging and cancer
October  25, 2010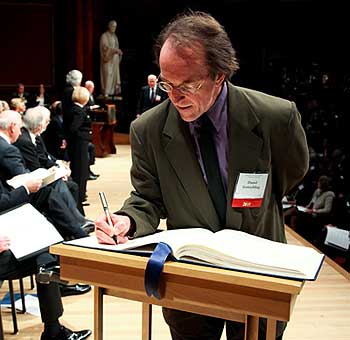 Dr. Daniel E. Gottschling signs the American Academy of Arts and Sciences Book of Members, a tradition dating back to 1780. Academy photo: Martha Stewart
Dr. Daniel E. Gottschling, an alumnus of Augustana College, has been inducted into the American Academy of Arts and Science, which honors leaders in research, scholarship, business, the arts, and public affairs.
Dr. Gottschling, Class of 1977, is a research scientist at the Fred Hutchinson Cancer Research Center in Seattle, Wash.
His class of fellows, the 230th in the academy's history, also includes another man with a tie to the Quad Cities: Jim Leach, a 15-term congressman from Iowa's 1st District and current chairman of the National Endowment for the Humanities. (Complete list of new members)
Speaking at Augustana's graduation convocation in 2005, Dr. Gottschling said his liberal arts experience enhanced his life in surprising ways. From his first term on campus, when exploring the meaning of "grace" in a religion class with Dr. Peter Beckman '49, Gottschling began to integrate his thinking.
Translating discussions about linear algebra with Dr. Doug Nelson '66 to what he was learning in physics, and then making connections to biology and economics revealed a new way of thinking. In a writing class with Dr. Roald Tweet, he was finally able to put "all my ideas that had been mulling around in my head down on paper."
"And since then, for me, I've always been looking for connections where I didn't expect them to be," Gottschling said. In fact, in the cancer research lab that shares his name, he uses yeast as a model system to investigate fundamental questions in biology. One particular area of interest is understanding the striking link between increasing age and the incidence of cancer in people.
"Making connections where people have not made them before... that comes right from my Augie experience," he said.
Founded in 1780, the American Academy of Arts and Sciences is an independent policy research center that conducts multidisciplinary studies of complex and emerging problems. Current Academy research focuses on science and technology policy; global security; social policy; the humanities and culture; and education. The academy's work is advanced by its 4,600 elected members, who are leaders in the academic disciplines, the arts, business and public affairs from around the world.