October 25, 2010
2010-11 Season - Vikings look forward to new season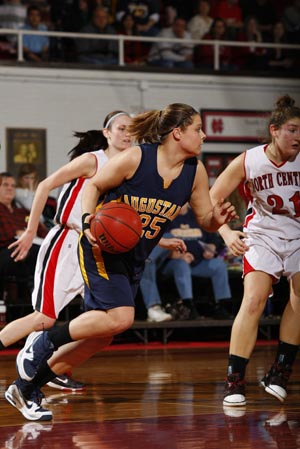 Kristen Fox was the leading scorer for the Vikings in 2009-10 with an 11.2 average and the third leading rebounder at 4.9. Augustana returns four starters from a year ago, fueling optimisim heading into the 2010-11 season.
After achieving the program's highest win total since the 2002-03 season last year, Augustana head women's basketball coach Bobbi Endress is approaching the 2010-11 season with optimism. The Vikings went 7-18 a year ago and four starters return from that team. In addition, Augustana took a trip to Greece in the early part of the summer of 2010 and Endress thinks that experience will be helpful to her team this year.
"We are much farther along at this time than at any time since I have been here," said Endress who will be starting her fifth year at the Vikings' helm. "We seem to have very good chemistry right now and we attribute that to our trip to Greece this summer. That has been a major factor in our maturation process."
The Vikings endured injuries to two starters a year ago and while that hurt the progress of the 2009-10 team, the depth developed while dealing with those situations is likely to provide dividends this season.
"Last year we had to play without two starters for a good portion of the season," said Endress. "Now we are seeing the benefits of that and our depth is much stronger."
Senior Kristen Fox (Ottawa Township HS, Ottawa, Ill.) was the leading scorer a year ago with an 11.2 average and she returns this year. Fox was one of those starters who missed a good chunk of last year as she played in just 15 of the 25 contests. She also averaged 4.9 rebounds per game and was third on the team in steals with 26.
Fox will head up a group of players in the wing position. Seniors Alyssa Neitzel (Providence Catholic HS, Shorewood, Ill.) and Dawn Kernich (Mt. Olive HS, Mt. Olive, Ill.) will also be in the hunt for playing time on the wing. Also in the mix will be senior Kayla Papish (Rock Island Alleman HS, Port Byron, Ill.), junior Allie Scaggs (Petersburg Porta HS, Petersburg, Ill.), and sophomores Dori Gills (Holy Family HS, Boulder, Colo.), Kelsey Mikula (Coal City HS, Coal City, Ill.) and Gianna Pecora (Downers Grove South HS, Darien, Ill.).
Neitzel was one of the team's top outside scoring threats a year ago while Kernich started 10 games. Papish has been one of the hardest workers in the program throughout her career while Scaggs, Gills and Pecora all missed considerable time last year due to injuries. Mikula is currently the starting setter on the Augustana volleyball team and she will get a late start on the hardwood.
Junior Natalie Runge (St. Dominic HS, O'Fallon, Mo.) was the third leading scorer a year ago with a 9.2 average and the second leading rebounder at 5.8. She will handle the post position. Juniors Elizabeth Phillips (Grayslake North HS, Lake Villa, Ill.) and Kristina Howard (Cherokee Trail HS, Aurora, Colo.) have both been solid during their first two seasons. Phillips saw action in 20 games last year with two starts and averaged 1.7 points and 1.2 rebounds while Howard played in 23 games, all off the bench and averaged 1.6 points and 1.9 rebounds. Freshman Chaney Tambling (Dwight HS, Dwight, Ill.) has looked good in the early going and other first year players Jessica Baids (West Chicago HS, Carol Stream, Ill.) and Devon Di Iorio (Glenbard South HS, Glen Ellyn, Ill.) show promise as well. Junior Brianna Skeens (Vernon Hills HS, Libertyville, Ill.) will get a late start because of volleyball, where is second on the team in kills, but she is a two year letterwinner in basketball and will contribute somewhere.
A year ago Kristin Warnken (Centaurus HS, Erie, Colo.) played in all 25 games and started 19 as the point guard. She averaged 5.8 points and 2.8 rebounds per game and led the team in assists with 52. She will probably slide over to the off guard position this year where she will be joined by junior Abbi Staples (Sterling HS, Sterling, Ill.) and freshman Amy Hicks (Rockford Christian HS, Rockford, Ill.).
The point guard slot will be in the hands of junior Whitney Miller (Clinton HS, Clinton, Iowa) with freshman Molly Etheridge (Normal Community HS, Bloomington, Ill.) in competition for playing time.
"There is no question that we have much more depth this season," said Endress. "You can't do anything about injuries and we certainly had our fair share a year ago. Because of that, we had some kids get valuable experience. Right now we feel we can go 9-10 deep in any game and that will help us immensely."