October 25, 2010
2010-11 Season - Returnees, China trip lend to optimism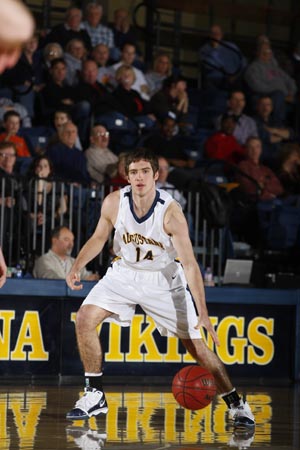 Senior guard Drew Croegaert and the Augustana Vikings are optimistic heading into the 2010-11 season. There are 13 letterwinners returning from a team that went 16-10 last year and also enjoyed a successful trip to China over the summer.
A combination of factors has made Grey Giovanine anxious to get the 2010-11 men's basketball season started. The veteran Augustana head coach is looking at a roster where 10 players started at least one game last season. Stir in the fact that the Vikings went 4-1 on an August sojourn to China and mix that with the fact that recent Augustana international trips have preceded tremendously successful seasons and Giovanine's optimism is certainly well-founded.
A year ago the Vikings went 16-10 while playing a lineup that at times had three sophomores and four freshmen in critical roles. There was only one senior on the 2009-10 team and that was Academic All-American Matt Pelton, who graduated after a three year stint as a starting guard – two years at the point and one year at the two-guard position. Add to that the fact that Bryant Voiles (Byron HS, Byron, Ill.) played just three games last year before an injury ended his season and the reasons for optimism continue to build.
"We looked around our locker-room on the first day of practice and saw 10 players who started at least one game last year," said Giovanine who has fashioned a record of 199-89 (.691) heading into his 12th season at the Vikings' helm. "The heart of our squad last year was made up of freshmen and sophomores and they are now a year older. We also were very happy with the way our entire team performed on our trip to China."
There is a solid history that the Vikings' trip to China will pay huge dividends this season. Giovanine has taken Augustana teams on international trips on three other occasions and after each trip the results have been positive. In the summer of 2001 the Vikings went to Belgium and France and then responded with a 17-8 season and a second place finish in the College Conference of Illinois & Wisconsin. The summer of 2004 saw a trip to Ireland translate into another 17-8 season and actually lay the foundation for a 23-6 year in 2005-06 that ended with an undisputed CCIW title and a trip to the "Sweet 16" of the NCAA tournament. The last trip before this year was a venture to China in 2007 and the team responded with a 23-6 overall record and a third straight CCIW title. Giovanine is hopeful that this year will be more of the same.
"If what we saw this summer is any indication, there will be more success like after the other three international experiences we have had," said Giovanine. "These trips play huge roles in our team's development."
Any talk about the 2010-11 Augustana team has to begin with a deep, talented and athletic front line. Senior Kyle Nelson (Deerfield HS, Deerfield, Ill.) heads up the bunch and he is coming off a season that saw him earn first team all-conference honors in the CCIW. Nelson averaged 14.7 points and 7.7 rebounds per game and shot .602 from the floor.
Four sophomores will also be in the mix after getting plenty of playing time as freshmen. George Dexter (Bettendorf HS, Bettendorf, Iowa), Luke Scarlata (Morton East HS, Berwyn, Ill.), Kameron Norton (Downers Grove North HS, Downers Grove, Ill.) and Brandon Kunz (Lake Zurich HS, Lake Zurich, Ill.) are all taller than 6' 6" and Giovanine calls this bunch collectively "the deepest front-line we have ever had". Norton (4.5 ppg/4.6 rpg) started 12 games while Kunz (4.7 ppg/3.3 rpg), Dexter (3.6 ppg/3.2 rpg) and Scarlata (2.2 ppg/2.3 rpg) started a total of nine games among them.
The wild card in the equation could be Voiles, who at 6' 9" as a wing player, will be a tough matchup. He played in just three games last year before being sidelined by injury but he averaged 10.0 points and 5.0 rebounds. As a sophomore in 2008-09 he played in 25 games and averaged 4.4 points and 3.4 rebounds.
Joining Voiles on the wings will be juniors Chris Anderson (West Carroll HS, Mount Carroll, Ill.) and Troy Rorer (Bettendorf HS, Bettendorf, Iowa). Rorer started 21 games last year and averaged 6.3 points and 4.0 rebounds while Anderson was sixth on the team in minutes played and averaged 7.0 points and 1.6 rebounds.
Seniors Drew Croegaert (Geneseo HS, Geneseo, Ill.) and Mike Avallone (Neuqua Valley HS, Naperville, Ill.) lend plenty of experience in the guard court. Croegaert is versatile enough to play both guard positions and Avallone is the team's top outside shooter. Junior Brian DeSimone (Buffalo Grove HS, Wheeling, Ill.) started 24 games last year at the point guard spot and led the team in assists with 85 and the returnees in steals with 30.
Juniors Griffin Dwyer (Hersey HS, Arlington Heights, Ill.), Eric Safranski (Putnam County HS, Mark, Ill.) and Josh Evans (Niles North HS, Skokie, Ill.) could be in the hunt for playing time as well.
Giovanine likes his recruiting class as well, saying "there will be a big upside with this bunch but we just don't need them to take as big a role as last year's group so we will be able to develop them more slowly."
Once again, the Vikings will face a rugged non-conference schedule with the likes of Washington, Anderson, St. Ambrose, Buena Vista, Wisconsin-Whitewater, Wisconsin-Stout and Chicago making things difficult before the rugged CCIW campaign begins.
"This is the time for our people to step up," said Giovanine, who is 279-174 (.615) as a collegiate head coach, including a six year stint at Lamar where he went 80-85. "I think that in terms of defensive play and rebounding, we could be as good as we have ever been. The question will be our ability to shoot from the perimeter."