October 23, 2010
2010-11 Season - Women's swimmers third at IWU Invite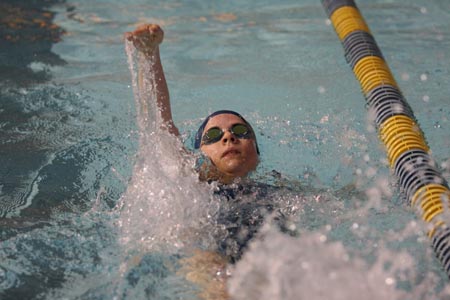 Sophomore Emma Regnier placed in one individual event and four relays to help Augustana to a third place finish at the IWU Halloween Classic on Saturday, October 23 in Bloomington, Illinois.
The Augustana women's swimming and diving team placed third in the Halloween Classic at Illinois Wesleyan University in Bloomington, Illinois on Saturday, October 23. The Vikings scored 47 points in the four-team field. Illinois Wesleyan won the meet with 103 points while Millikin was second with 53 and North Central was a distant fourth with 25.
Freshman Helen Myers (Pecatonica HS, Rock City, Ill.) had the top individual performance for Augustana as she took second in the diving event with 190.95 points. Junior teammate Tanya Walter (Prospect HS, Mt. Prospect, Ill.) was fourth in the same event with 161.95 points.
The 3x100 butterfly relay team of sophomore Emma Regnier (Grayslake North HS, Lake Villa, Ill.), freshman Hillary Ferguson (Waubonsie Valley HS, Naperville, Ill.) and Danna Jensen (Dundee-Crown HS, Algonquin, Ill.) placed second with a time of 3:32.03. Regnier was also on the 3x100 medley relay team that placed second with a time of 3:32.25. She was joined by sophomore Mary Naughton (Fremont HS, Fremont, Neb.) and sophomore Molly Clennon (Benet Academy, Naperville, Ill.).
Five relay teams finished third. The 500 freestyle relay of Naughton, Ferguson, junior Alissa Giedd (Freeport HS, Cedarville, Ill.) and Clennon started off the meet by taking third with a time of 5:14.28. Giedd swam leadoff and Naughton anchor on the 3x100 backstroke unit that was third in 3:37.52. They were joined by junior Colleen Mans (Robbinsdale Cooper HS, New Hope, Minn.). The 3x100 breaststroke relay of Clennon, Regnier and Alexandra Piper (Coal City HS, Coal City, Ill.) finished third in 4:06.12.
In the 200 medley relay Jensen, Piper, Regnier and Naughton combined for a third place time of 2:09.09. The 200 freestyle relay of Piper, sophomore Holyann Kabbe (Fenton HS, Bensenville, Ill.), Jensen and Regnier ended the meet with a third place finish in 1:49.14.
Freshman Elizabeth O'Hara (Wetosha Central HS, Salem, Wis.) took third in the 200 breaststroke with a time of 2:48.61. Regnier finished third in the 200 butterfly in 2:31.47 and Giedd took fifth in the 200 backstroke in 2:43.07. The 100 freestyle saw Ferguson in fourth (:59.61) and Clennon in fifth (1:00.17).