October 23, 2010
2010 Season - Battle of top five teams ends in tie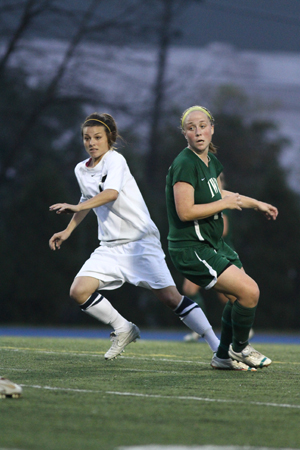 Gina Adduci (L), was one of two Augustana seniors--along with Megan Mummert--who played their next to last home game Saturday at Ericson Field. The fifth-ranked Vikings and third-ranked Illinois Wesleyan battled through a rain storm and ligthning delay to a scoreless tie.
ROCK ISLAND, Ill. - Fifth-ranked Augustana and third-rated Illinois Wesleyan battled the elements and each other to a scoreless tie Saturday at Ericson Field. The Vikings' third such deadlock of the season puts their record at 12-1-3 overall and 3-1-1 in the CCIW, while the Titans are now 15-0-1 overall and 4-0-1 in the conference.
Much of the first half was played in a torrential downpour and with the game in the 30th minute, lightning strikes caused a delay that would last an hour and 15 minutes. Each team got off just two shots in the opening period, due to both the conditions and two outstanding defenses.
The action picked up in the second half with each team getting off seven shots in the period and with each goalkeeper-Kayla Radloff (West Chicago HS, West Chicago, Ill.) of Augustana and Alli Novak of Illinois Wesleyan-recording three saves.
In the first overtime, it was Illinois Wesleyan controlling play, outshooting the Vikings three to one. Augustana had the better of it in the second overtime period, with a 3-0 shot advantage. The best opportunity for the home team came in the 106th minute when Taylor Moesle (Sandburg HS, Orland Park, Ill.) got free and had an open look at the Titan goal from 15 yards out, but missed wide left with her shot.
Not surprisingly, the final totals were nearly dead even, with Augustana holding a slight edges of 13-12 in total shots and a 5-4 in shots on goal. All three corner kicks awarded in the match-two for Illinois Wesleyan and one for Augustana-occurred in the two overtime periods. Novak was credited with five saves and Radloff four.
The Vikings will play their final home game of the regular season on Wednesday, October 30, when the North Central Cardinals visit Ericson Field for a 7:30 p.m. match.