October 23, 2010
2010 Season - Augustana second at Fighting Bee Invite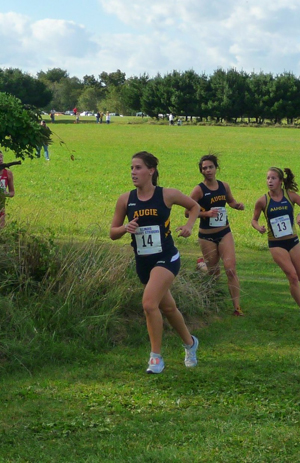 Annie Heifner was Augustana's top individual finisher Saturday, taking fourth place at the St. Ambrose Fighting Bee Invite. The Vikings finished second as a team.
BETTENDORF, Iowa-Sophomore Annie Heifner (Oregon HS, Oregon, Wis.) grabbed a fourth-place finish individually and Augustana finished second as a team Saturday at the St. Ambrose Fighting Bee Invite. The host school took first place and had the individual winner in Abby Parsons.
Heifner completed the Crow Creek course in 20:53, 28 seconds off Parsons' winning pace. Junior teammate Angela Pisani (York HS, Elmhurst, Ill.) was sixth in a time of 21:08 and senior Kristin Sattizahn (Erie HS, Erie, Ill.) garnered a top ten finish as well, running a 21:20-good for ninth.
Augustana also captured places 12 through 15 with freshman Kelsey Stockert (Mapleton, Ill., Peoria Notre Dame HS), sophomore Alyssa Tworek (Carmel Catholic HS, Hawthorn Woods, Ill.), senior Meaghan Reaney (Lincoln-Way Central HS, New Lenox, Ill.) and freshman Kristen Whiteside (Zion Benton HS, Winthrop Harbor, Ill.) running 21:22, 21:29, 21:33 and 21:40, respectively.
Freshman Emma Grandgeorge (Sycamore HS, Sycamore, Ill.) led a contingent of five Vikings that took places 17 through 21. Grandgeorge ran a 21:43, one second ahead of senior Anita Maurer (Downers Grove North HS, Downers Grove, Ill.). Sophomore Kirstillyn Pohlman (Zion Benton HS, Winthrop Harbor, Ill.) was 19th in 21:47. Seniors Katie Ries (Regina HS, Iowa City, Iowa) and Brittany Prazak (Naperville North HS, Naperville, Ill.) ran 21:52 and 21:59 to finish 20th and 21st, respectively.
Rounding out top 30 finishers for Augustana were sophomore Emily Byars (Geneva HS, Geneva, Ill.) and juniors Danielle Feldhaus (Meadowdale HS, Lynwood, Wash.) and Sarah Johnson (Grayslake North, Lake Villa, Ill). Byars finished 25th in 22:11. Feldhaus ran a 22:12 for 26th and Johnson was 27th in 22:15.
St. Ambrose won the event with a total of 30 points. Augustana was second with 44, followed by Sauk Valley (87), Clarke (94) and Carl Sandburg (123).
On Saturday, October 30, the Vikings host the CCIW Championship at Credit Island beginning at noon.