October 23, 2010
2010 Season - Penalty kick gives Vikings a 2-1 win over IWU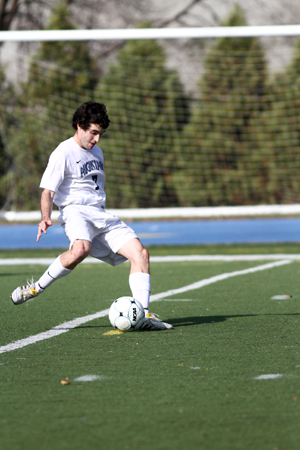 Greg Maggio's penalty kick in the 75th minute provided the margin of victory Saturday, as Augustana defeated Illinois Wesleyan 2-1 at Ericson Field.
ROCK ISLAND, Ill. - A penalty kick in the 75th minute by senior Greg Maggio (Wheaton-Warrenville South HS, Wheaton,Ill.) provided the winning margin Saturday as Augustana defeated Illinois Wesleyan 2-1 at Ericson Field. Maggio's third goal of the season helped the Vikings improve to 7-9-1 overall and 3-2-0 in the CCIW, while the Titans fell to 6-6-2 overall and 3-1-1 in the league.
After a scoreless first half in which Augustana outshot the Titans 6-4, Illinois Wesleyan got on the board first in the 52nd minute when Kyle Gorgol scored his third goal of the season off an assist from Sam Peniak.
The Vikings answered in the 65th minute when Sean Fidlow (Carmel Catholic HS, Gurnee, Ill.) took a long feed from freshman Michael Buric (Notre Dame Prep, Scottsdale, Ariz.) and beat Titan goalkeeper Frank Gorg for his fourth goal of the season.
That set the stage for the game's key play as Maggio was taken down in the box and awarded a free kick. He was able to beat Gorg to his left to give the Vikings a 2-1 lead. Augustana survived several IWU scoring threats late in the game and the final buzzer sounded as Viking keeper Tyler Cowherd (Bettendorf HS, Bettendorf, Iowa) gathered in a loose ball right in front of the Augustana goal.
Illinois Wesleyan outshot the Vikings 9-6 in the second half and 13-12 for the game. Eight of the Titan shots were on goal as Cowherd recorded seven saves in the match. Half of Augustana's shots were on goal.
The win snapped a three-game losing streak as the Vikings head into Wednesday's match with North Central at Ericson Field. Game time is scheduled for 5:00 p.m.