October 22, 2010
2010 Season - Men's cross country stays in top 20 in nation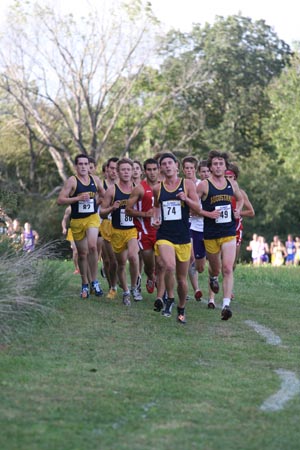 Augustana remained in the top 20 of the latest NCAA Division III men's cross country poll, ranking 18th. The Vikings are idle this week in preparation for the College Conference of Illinois & Wisconsin championship on Saturday, October 30 at Saukie Golf Course in Rock Island, Illinois.
A seventh place finish at the UW-Oshkosh Invitational last weekend caused the Augustana men's cross country team to drop four spots in NCAA Division III national poll. The Vikings slid from 14 th to 18 h in the poll, which is conducted by the US Track & Field/Cross Country Coaches Association.
Augustana's seventh place finish came in a field that was loaded with top ranked teams in NCAA Division III. The field included nine teams ranked in the top 25 in the national poll. The number one and two ranked teams in the nation (North Central and Washington) were in the field along with Wisconsin-Stevens Point (seventh), Calvin (eighth), New York University (ninth), Wisconsin-Whitewater (10 th), Wisconsin-Oshkosh (22 nd) and Grinnell (25 th).
North Central won the team title with 49 points. Augustana defeated two ranked teams (Wisconsin-Whitewater and Grinell) in the Oshkosh Invitational. So far this year, the Vikings have a fourth place finish at the Wartburg Invitational. They were second at the Brissman/Lundeen Invitational on Friday, September 24 at Saukie Golf Course in Rock Island, Illinois. They won the Western Illinois Invitational on September 3 in Macomb, Illinois and then placed fourth at the 32-team Illinois Intercollegiate Championships on September 17 in Normal, Illinois.
2010 NCAA DIVISION III MIDWEST NATIONAL CROSS COUNTRY POLL
conducted by the U.S. Track & Field and Cross Country Coaches Association (USTFCCCA)
as of 10/21/10
| | | | | | |
| --- | --- | --- | --- | --- | --- |
| RANK | SCHOOL | POINTS | REGION | CONFERENCE | LAST WEEK |
| 1. | North Central (8) | 280 | Midwest | CCIW | 1 |
| 2. | Allegheny | 272 | Mideast | NCAC | 3 |
| 3. | SUNY-Geneseo | 259 | Atlantic | SUNYAC | 4 |
| 4. | Calvin | 252 | Great Lakes | MIAA | 8 |
| 5. | Haverford | 249 | Mideast | Centennial | 6 |
| 6. | St. Lawrence | 246 | Atlantic | Liberty | 5 |
| 7. | NYU | 223 | Atlantic | UAA | 9 |
| 8. | Wisconsin-Platteville | 220 | Midwest | WIAC | 16 |
| 9. | Washington | 218 | Midwest | UAA | 2 |
| 10. | Wisconsin-Stevens Point | 209 | Midwest | WIAC | 7 |
| 11. | Williams | 200 | New England | NESCAC | 11 |
| 12. | Wisconsin-Whitewater | 191 | Midwest | WIAC | 10 |
| 13. | Dickinson | 189 | Mideast | Centennial | 12 |
| 14. | Willamette | 164 | West | Northwest | 15 |
| 15. | Bowdoin | 162 | New England | NESCAC | 17 |
| 16. | Elizabethtown | 154 | Mideast | UAA | 27 |
| 17. | Wisconsin-Oshkosh | 153 | Great Lakes | NCAC | 22 |
| 18. | AUGUSTANA | 132 | Midwest | CCIW | 14 |
| 19. | Wisconsin-LaCrosse | 127 | Midwest | WIAC | 20 |
| 20. | Hamline | 114 | Midwest | WIAC | 28 |
(first place votes in parentheses)