October 22, 2010
2010 Season - Vikings look for fifth straight road win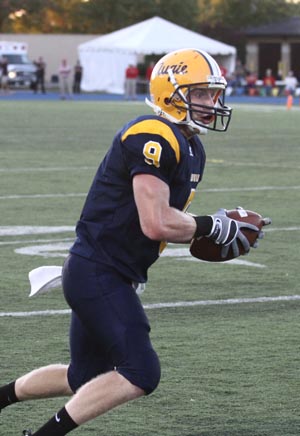 Corbett Ball has emerged as Augustana's leading receiver in 2010. He has 34 catches for 368 yards with two touchdowns. Ball and the Vikings will be looking for their fifth straight road victory this Saturday at North Park.
Looking to bounce back from a tough homecoming loss to North Central, Coach Jim Barnes' Augustana football team did just that in a big way Saturday night, pounding Carthage to the tune of 43-16 in Kenosha, Wisconsin. The win kept the Vikings perfect on the road this season with a 4-0 record. They'll look to maintain that success away from home as they head to Chicago for a contest against North Park this Saturday. Overall, the Vikings are 4-2 and sit in a third-place tie with Illinois Wesleyan at 2-1 in the CCIW.
In Saturday's game, quarterback David Lee (Springfield HS, Springfield, Ill.) continued his assault on the school record books, tying his own standard for completions in a game and surpassing his own record for passing yards. He finished the contest 28 of 41 for 429 yards and three touchdowns with no interceptions. Lee was far from the only weapon in the Augustana arsenal, as the ground game produced 155 yards and three touchdowns as well. Six different Vikings scored touchdowns in the contest and three of Lee's receivers—Corbett Ball (Buffalo Grove HS, Arlington Heights, Ill.), Kyle Hundman (Bloomington Central Catholic HS, Bloomington, Ill.) and Zach McCullough (St. Charles North HS, St. Charles, Ill.)—eclipsed the 100-yard mark in receiving yards. Coach Barnes singled out the play of his offensive line, which paved the way for 605 total yards.
While the offense was putting up gaudy numbers, the Augustana defense was its usual stingy self, forcing five turnovers (the offense converted four of them into 24 points) and limiting the Red Men to just 60 rushing yards in 22 attempts. Carthage's high-powered passing game, led by record-setting quarterback Evan Jones, did finish with 407 passing yards, but 224 of those came in the game's final 20 minutes after the Vikings had established a 37-7 lead. Rob Mago (Cary-Grove HS, Cary, Ill.) intercepted Jones twice.
This Saturday, Augustana heads to Chicago to meet the Vikings of North Park University, currently 2-4 overall and 0-3 in the CCIW. With freshman Tyler Krebs at quarterback, Head coach Scott Pethtel has installed a triple option offense which saw the team have some success in the non-conference portion of the schedule. North Park produced 101 points in wins over Benedictine (31-20) and MacMurray (70-7) and set a school rushing record in the MacMurray game with 525 yards. However, the ground game has struggled since conference play started, producing just 115.0 yards per game and 2.2 yards per carry.
Matt Hassan is the leading ground gainer with 420 yards on 93 carries in the first six games. Krebs and his backup, Evan Rhoads, lead in rushing touchdowns, having reached the end zone five times each. Rakim Jones has rushed for 268 yards and is averaging a startling 9.2 yards per carry. The passing game has been almost non-existent, with a .348 completion percentage and 58.7 yards per game.
On defense, North Park is allowing 369.5 total yards per contest, split almost evenly on the ground (182.5) and through the air (187.0). Opponents have averaged 5.0 yards per carry.
For Augustana, Lee has now completed 120 of 180 (.667) passes for 1,512 yards and 14 touchdowns against just three interceptions. In all games, he ranks second in the CCIW in passing yards (252.0 yards per game), total offense (271.7 ypg) and passing efficiency (159.6). In league games only, he leads the conference in passing efficiency (162.3) and total offense (294.7 ypg) and ranks second in passing yards (258.7 ypg).
The running game, which was bolstered Saturday by the return of sophomore Nate Pena (Neuqua Valley HS, Bolingbrook, Ill.), is led by senior Robert Wood (Rockford Boylan HS, Loves Park, Ill.) who has carried 80 times for 299 yards (3.7 per carry) and four touchdowns. Freshman Alex Hembrey (Cary-Grove HS, Cary, Ill.) has added 158 yards on 29 carries (5.4 ypc) and Pena, who missed four games with an ankle injury, has carried 15 time for 96 yards (6.4 ypc).
Ball, with 34 receptions for 368 yards and two touchdowns, leads the Vikings in receiving. Hundman (27-274-1) and McCullough (14-366-5) are next and tight ends Keith Abbey (Rich East HS, Park Forest, Ill.) and Jack Gilleland (Marian Central HS, Bull Valley, Ill.) have each snared 11 passes. Abbey's have gone for 145 yards and three touchdowns while Gilleland's have produced 104 yards and one score.
Defensive coordinator Rob Cushman's unit is allowing just 312.0 yards per game. Opponents have managed just 119.0 yards per game and 3.1 yards per carry on the ground. The Vikings have forced 14 turnovers this year and are a plus-4 in turnover margin. Individually, senior linebacker John Mago (Cary-Grove HS, Cary, Ill.) continues to lead the Vikings in tackles with 28 solo, 35 assists and 63 total. He ranks fifth in the CCIW with an average of 8.3 stops per game in conference play. Sophomore linebacker Joe Weber (Marmion Academy, South Elgin, Ill.) has team-bests of nine tackles for loss and 4½ sacks. Ben Hall (University HS, Normal, Ill.) leads with three interceptions and Curt Perschnick (Dwight HS, Dwight, Ill.) has recovered a pair of opposition fumbles.
LEE CLIMBING THE CHARTS: Six games into his junior season, Lee's career numbers stand at 275 completions in 420 attempts (.655) for 3,242 yards and 24 touchdowns against just nine interceptions. That equates to a 144.9 career pass efficiency rating. He's currently fourth at Augustana in career passing yards and is just 410 behind Butch Necastro for third place and 423 behind John Each's second-place total. With four regular season games to play, his 1,512 yards this year rank fourth on the school's single season list—trailing only Tim Podulka's third-place total of 1,570 (2008), Lee's own 1,714 last year and Ken Anderson's school record of 2,117 set in 1968.
CARY-GROVE REUNION: North Park quarterback Krebs, who helped lead Cary-Grove High School to the IHSA Class 6A state title last year, will be reunited with several former teammates Saturday. All three of his backfield mates in the Trojans' triple option attack are attending Augustana. Running backs Alex Hembrey and Eric Chandler are on the football roster and the third back, Steve Hapanovich, will be playing baseball for the Vikings next spring. Augustana freshman offensive lineman Sean Considine helped clear the way for all of them last year. In addition, Augustana features several other Cary-Grove alumni including senior linebacker John Mago, sophomore defensive back Rob Mago, junior running back A.J. Hoger (who preceded Krebs as the Trojans' quarterback) and junior defensive end Mike Matthieson.

AUGUSTANA-NORTH PARK SERIES NOTES: Augustana has dominated this series between the two teams in the CCIW who share the Vikings nickname...Augustana leads 46-2 and has never lost a game to North Park in Rock Island with that streak now at 25... Augustana has won 38 straight overall in this series since a 23-12 North Park victory in 1971... In the last 25 games North Park has managed a total of just 149 points.
LAST YEAR'S GAME: 10/31/09—AUGUSTANA 42, NORTH PARK 14
Augustana wins 38th straight over North Park
CHICAGO, Ill. – A three-touchdown performance by Augustana freshman running back Nate Pena (Neuqua Valley HS, Bolingbrook, Ill.) keyed a 42-14 road win over North Park Saturday. Augustana has now won 47 of 49 meetings between the teams all-time, including the last 38 in a row.
Playing without first and second team running backs Robert Wood (Rockford Boylan HS, Loves Park, Ill.) and A.J. Hoger (Cary-Grove HS, Cary, Ill.), Coach Jim Barnes had the opportunity to get Pena his first significant playing time of the year. Senior Jake Parke (St. Joseph-Ogden HS, St. Joseph, Ill.), used primarily as a slot receiver for the last two seasons, saw action at running back as well. Both were very productive in the contest. Parke ran for 100 yards on nine carries and opened the scoring with a 49-yard touchdown run on Augustana's second play from scrimmage. Pena added 88 yards on 11 carries and touchdown runs of 10, 4 and 43 yards.
An Eric Meyer (Harlem HS, Machesney Park, Ill.) interception of North Park quarterback Shelby Wood on the game's opening possession set Augustana up at its own 45-yard line and one play later Parke's burst made it 7-0 Augustana. A Shane Holl (Batavia HS, North Aurora, Ill.) recovery of a Wood fumble at midfield set up Augustana's next score and Pena's 10-yard run capped a six-play, 50-yard drive. Arnie Fitzwater's (Waterford Union HS, Waterford, Wis.) point after made the score 14-0.
North Park answered with a 9-play, 66-yard drive that took 5:08 off the clock. Wood capped it off with a 16-yard pass to Sam Lialios and North Park was within 14-7 with 1:05 left in the first quarter. Pena's second and third touchdowns of the half pushed Augustana's lead to 28-7 at the break. North Park missed an opportunity to score just before the half when Aidan Howarth's 22-yard field goal attempt was wide left.
Viking quarterback David Lee (Springfield HS, Springfield, Ill.) started the scoring in the second half with a 52-yard touchdown run with 10:23 left in the third quarter. Just before the end of the quarter, senior Henry Deters (Unity HS, Tolono, Ill.) closed out the Augustana scoring with an eight-yard touchdown run on his only carry of the day.
Wood connected with Sam Cochiaro for a 22-yard touchdown pass early in the fourth quarter to account for the final score of 42-14.
Despite playing without several key performers, Augustana's offense was efficient if not spectacular. The Vikings scored on every possession of the first half except their last, when they took a knee. The ground game produced 303 net yards on 42 carries, an average of 7.2 yards per tote. Through the air, Lee connected on 9-of-14 for 135 yards and freshman Nick Welch (Oswego HS, Oswego, Ill.) went 3-for-3 for 19 yards in his first action of the year. Lee added 72 rushing yards on six carries as well. Zach McCullough (St. Charles North HS, St. Charles, Ill.) lead Augustana with five catches for 65 yards.
Defensively, Augustana allowed just 103 rushing yards on 35 North Park carries. Wood completed 10-of-17 passes for 129 yards and the Vikings intercepted him once. John Mago (Cary-Grove HS, Cary, Ill.) was the leading Augustana tackler with eight. Aaron Setchell (Amboy HS, Amboy, Ill.) had three tackles for loss and forced a fumble.
Augustana is in action next on Saturday, November 7, when they host CCIW co-leader North Central in a 1:00 p.m. contest at Rock Island's Ericson Field.
HEAD COACH JIM BARNES
Jim Barnes is in his 11th season as the head coach at his alma mater (class of 1981). He has compiled a record of 77-32 (.706) during his career at Augustana, including a 4-2 mark this year. Overall, he has a mark of 114-45 (.717) in 16 years as a college head coach and that includes a 37-13 record at College of Wooster from 1995-99. During his years at Augustana his teams have gone 54-19 (.740) in the College Conference of Illinois & Wisconsin with league titles in 2001, 2005 and 2006. The Vikings have participated in the NCAA Division III national playoffs in 2001 and 2005.