October 20, 2010
2010 Season - Wheaton takes battle of ranked teams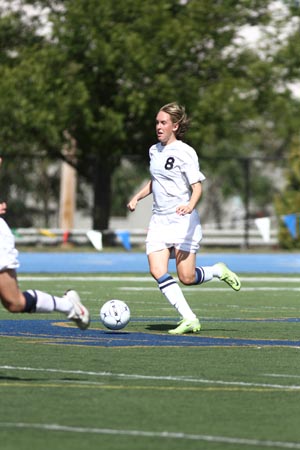 Taylor Moesle scored the lone goal for Augustana in the Vikings' 4-1 loss at 12th ranked Wheaton on Tuesday, October 20.
In a battle between two teams ranked in the upper echelon of NCAA Division III, Wheaton used three second half goals to defeat Augustana 4-1 on Wednesday, October 20 in Wheaton, Illinois. It was the first loss of the season for the Vikings, who are now 12-1-2 overall and 3-1-0 in the College Conference of Illinois & Wisconsin. Wheaton moves to 14-2-0 and 4-0-0. Prior to the game Augustana was ranked fifth in NCAA Division III while Wheaton was 12th.
The Thunder struck first with a goal less than 20 minutes (19:33) into the contest when Ali Kopelman scored on a header off an assist by Katelyn Kishkunas. The score remained 1-0 through halftime but in the early stages of the second half, Augustana sophomore Taylor Moesle (Carl Sandburg HS, Orland Park, Ill.) got the equalizer when she converted on a penalty kick for her 11th goal of the season.
Wheaton had a quick answer, however, when Kopelman scored her second goal of the game just four minutes later (53:37) with assists going to Kishkunas and Jaime Orewiler. That made it 2-1 and the score stood that way until Kopelman tallied her third goal of the game at 82:29 with Kishkunas once again collecting the assist. Kishkunas picked up her fourth assist of the game at 85:11 when she fed Kristen Clark on a corner kick and Clark scored the final goal of the match.
Wheaton held a 16-8 advantage in shots, including a 10-4 margin in the final 45 minutes. The Thunder also held a huge edge of 11-2 in corner kicks.
Things won't get any easier for the Vikings as they host third ranked Illinois Wesleyan on Saturday, October 23 at 3:30 p.m. at Ericson Field.