October 20, 2010
2010 Season - Undefeated Vikings jump to fifth in nation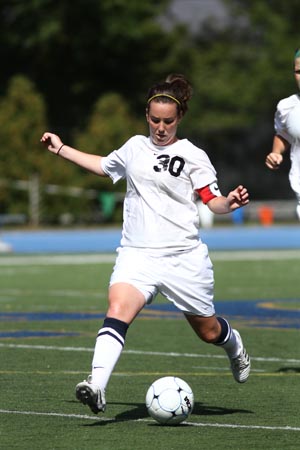 Junior captain Mary Pat Holtrop and the Augustana Vikings are 12-0-2 overall and currently ranked fifth in NCAA Division III.
Augustana remained unbeaten in women's soccer at 12-0-2 with a pair of 2-0 victories last week and in the process jumped to fifth in the NCAA Division III national poll. The Vikings defeated Edgewood 2-0 on Wednesday, October 13 and then beat North Park by an identical score on Saturday, October 16.
With the two wins, Augustana climbed from sixth to fifth in the latest ranking, which is conducted by the National Soccer Coaches Association of America. The Vikings are currently 3-0-0 in the College Conference of Illinois & Wisconsin.
Messiah (13-0-0) continues to be the number one ranked team in the nation while Hardin-Simmons (13-0-0) and Illinois Wesleyan (15-0-0) are second and third, respectively. Augustana will play matches against two ranked teams this week, starting with tonight with a 4:30 p.m. match at 11 th ranked Wheaton. The Vikings will then host third rated Illinois Wesleyan on Saturday, October 23 at 3:30 p.m. at Ericson Field.
2010 NCAA DIVISION III WOMEN'S SOCCER RANKINGS
Compiled by National Soccer Coaches Association of America *** as of October 20, 2010
| | | | |
| --- | --- | --- | --- |
| RANK | TEAM | PREV. | RECORD |
| 1. | Messiah (PA) | 1 | 13-0-0 |
| 2. | Hardin-Simmons | 2 | 13-0-0 |
| 3. | Illinois Wesleyan | 4 | 15-0-0 |
| 4. | Otterbein | 5 | 12-0-1 |
| 5. | AUGUSTANA | 6 | 12-0-2 |
| 6. | Loras | 7 | 14-1-0 |
| 7. | Ithaca | 9 | 10-2-0 |
| 8. | Emory | 15 | 11-1-2 |
| 9. | Trinity | 10 | 12-1-0 |
| 10. | William Smith | 11 | 10-2-2 |
| 11. | Eastern Connecticut | 13 | 13-0-1 |
| 12. | Wheaton | 12 | 13-2-0 |
| 13. | Williams | 14 | 8-3-1 |
| 14. | Centre | 16 | 14-1-0 |
| 15. (tie) | Wisconsin-Stevens Point | 17 | 12-1-0 |
| 15. (tie) | William Paterson | NR | 9-2-3 |
| 17. | Dickinson | NR | 10-2-1 |
| 18. | College of New Jersey | 3 | 12-1-1 |
| 19. | Stevens Tech | 18 | 12-2-1 |
| 20. | Puget Sound | 19 | 12-1-1 |