October 19, 2010
2010 Season - Comeback highlights "Senior Night" win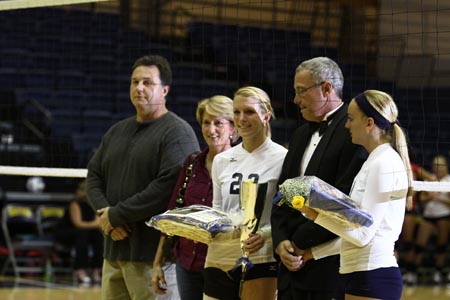 At "Senior Night" in the Carver Center on Tuesday, October 19 the Vikings honored seniors Jenna Loncar and Courtney Jungnickel prior to the match. Augustana then came from an 0-2 deficit to defeat North Central and clinch a host spot in the first round of the CCIW Tournament. Here Loncar is shown with her parents Mark and Michele while Jungnickel is with her father Eric.
A miraculous come-from-behind effort punctuated "Senior Night" at Augustana as the Vikings rallied from a huge deficit to defeat North Central 3-2 in College Conference of Illinois & Wisconsin action on Tuesday, October 19 in the Carver Center.
North Central won the first two games by scores of 25-20 and 25-16 and then jumped out to an 8-1 lead to start game three. Instead of folding, first year head coach Jamie Walters' charges dug in and gutted out a 25-23 victory in the third game to keep the match alive. That was followed by another 25-23 win in game four that forced a fifth and deciding game. In that one, the Vikings pulled out a 15-11 win to secure the match.
With the victory, Augustana goes to 10-16 overall and, more importantly, 4-2 in the CCIW to seal at least a fourth place finish in the league. That also clinched a home match in the first round of the CCIW Tournament, which will begin on Tuesday, November 2.
On this night, which honored the two seniors on the Augustana team, Courtney Jungnickel (Naperville Central HS, Naperville, Ill.) and Jenna Loncar (Marist HS, Chicago, Ill.), both came up huge in the comeback. Jungnickel put down 14 kills and had just three errors in 61 attempts. She also had 11 digs, four service aces and a solo block. Loncar was credited with eight kills, two setting assists, four digs and two assisted blocks.
Junior Brianna Skeens (Vernon Hills HS, Libertyville, Ill.) led the team in kills with 15 and she had a hitting percentage of .393 with four errors in 28 total attempts. She also had a service ace and four assisted blocks.
While Skeens and Jungnickel were the lone Vikings in double digits in kills, they were by no means the only contributors on offense. Augustana had a total of 55 kills and a total of eight players recorded kills in the match. Freshman Kristen Yerkes (Marist HS, Palos Heights, Ill.) had seven kills, 11 digs, one service ace and one assisted block. Sophomore Sarah Williams (Rockford Lutheran HS, Rockford, Ill.) came up with five kills, one setting assist, one dig and one solo block.
Sophomore Kelsey Mikula (Coal City HS, Coal City, Ill.) led the team in setting assists with 25 and she also had 20 digs and a service ace. Freshman Katrina Colclasure (Tri-Valley HS, Bloomington, Ill.) had 22 setting assists and 27 digs. Sophomore Shannon Slick (Rockton Hononegah HS, Roscoe, Ill.) had 25 digs.
At one time this season the Vikings were 1-8 but they have now gone 9-8 since that time and head into the final CCIW match of the season, which will be next Tuesday at Millikin, with a 4-2 league record. North Central, which was an NCAA Division III tournament team last year, falls to 12-16 overall and 2-4 in the conference.