October 19, 2010
2010 Season - Lee named CCIW "Player of the Week"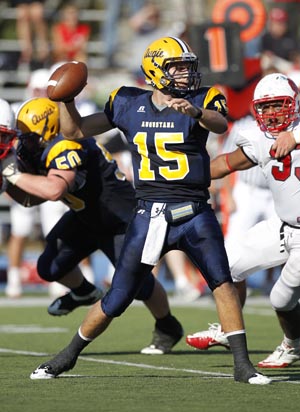 Junior quarterback David Lee has been named the "Offensive Player of the Week" in the College Conference of Illinois & Wisconsin for his performance in the Vikings' 43-16 win at Carthage on Saturday, October 16. Lee completed 28 of 41 passes for a school record 429 yards with three touchdowns and no interceptions.
Augustana's David Lee (Springfield HS, Springfield, Ill.) has been selected as the "Offensive Player of the Week" in the College Conference of Illinois & Wisconsin, it was announced today. The junior signal-caller had a tremendous outing in the Vikings' 43-16 road victory over Carthage on Saturday, October 16.
He continued his assault on the school record books, tying his own standard for completions in a game and surpassing his own record for passing yards. He finished the contest 28 of 41 for 429 yards and three touchdowns with no interceptions. He completed passes to 10 different receivers with Corbett Ball (Buffalo Grove HS, Arlington Heights, Ill.) and Kyle Hundman (Bloomington Central Catholic HS, Bloomington, Ill.) each snaring eight passes.
Lee has completed 120 of 180 passes this season for 1,512 yards and 14 touchdowns while throwing just three interceptions. He is averaging 252.0 yards per game passing and has a quarterback efficiency rating of 159.56. With four games left to play in the 2010 season, his 1,512 yards passing is fourth on the school's single season list. He trails Ken Anderson (2,117 in 1968), himself (1,714 in 2009) and Tim Podulka (1,570 in 2008) on the all-time single season list.
He is currently fourth on the Vikings' career passing yardage list with 3,242 yards. Anderson holds the school record with 6,131 yards from 1967-70. John Each is in second with 3,666 yards from 1971-74) and Butch Necastro is third with 3,652 yards from 1974-77.
Lee currently ranks second in the CCIW in yards per game, total passing yardage and quarterback efficiency rating. He has helped the Vikings to a 4-2 overall record and a 2-1 mark in the CCIW heading into this Saturday's contest against North Park in Chicago, Illinois.
He is a business administration major and is the son of Stephen and the late Shirley Tappendorf Lee of Springfield, Illinois. This is the third time during his career that he has been honored as the CCIW's "Player of the Week". He won the award twice last season.