October 16, 2010
2010 Season - Vikings seventh in field with 10 ranked teams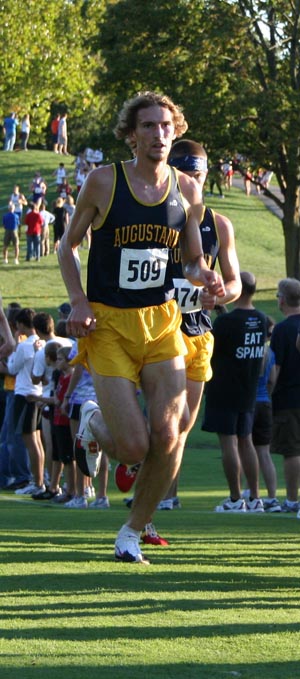 Junior Mike Tisza was the second man for the Vikings at the Wisconsin-Oshkosh Invitational on Saturday, October 16. Augustana placed seventh int he 37 team meet, which featured 10 teams ranked in the top 25 of the latest NCAA Division III poll. Tisza finished 35th with a tme of 25:24.
Competing in a field that included 10 teams ranked in the top 25 of NCAA Division III, Augustana placed seventh in the Wisconsin-Oshkosh Invitational on Saturday, October 16 at Lake Breeze Golf course in Winneconne, Wisconsin. Six teams were ranked in the top 10 and the Vikings finished the meet in seventh place with 199 total points.
North Central, ranked number one in the nation, won the meet with 49 points. Calvin (eighth) finished second with 78 points while New York University (ninth) placed third with 138. Second ranked Washington was fourth with 146 with seventh rated Wisconsin-Stevens Point finishing fifth with 150 points. Wisconsin-Oshkosh (22nd) was sixth with 173 and the 14th ranked Vikings placed seventh with 199. Unranked Wheaton (214), Chicago (233) and Coe (389) filled out the top 10 in the meet. Nationally ranked Grinnell (25th) placed 14th with 475 points and Wisconsin-Whitewater (10th) was 16th with 482 points. There were a total of 37 teams in the field.
Michael Spain of North Central won the 8,000 meter race with a time of 24:22.45, which was 15 seconds faster than runner-up Michael Burnstein of Washington.
Senior Matt Bowman (Geneva HS, Geneva, Ill.) was the top finisher for Augustana, taking 15th with a time of 24:58. He was followed into the chute by junior Mike Tisza (Hersey HS, Prospect Heights, Ill.) who was 35th in 25:24. Sophomore Brian Pollastrini (York HS, Elmhurst, Ill.) placed 39th in 25:27. Sophomore Jonathan Smith (Moline HS, Moline, Ill.) was 48th in 25:33 and sophomore Nathan Smith (Fenton HS, Bensenville, Ill.) finished out the Vikings' top five in 62nd place with a time of 25:43. Junior Billy TenBusch (Prairie Ridge HS, Cary, Ill.) was 69th in 25:46 and Brad Keating (Cary-Grove HS, Cary, Ill.) was 77th in 25:52.
Augustana will take this weekend off in preparation for the College Conference of Illinois & Wisconsin championship meet on Saturday, October 30. The CCIW meet will be hosted by the Vikings at Saukie Golf Course in Rock Island, Illinois.