October 16, 2010
2010 Season - North Park hands Augustana it first CCIW loss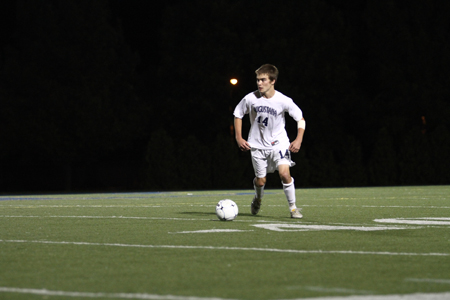 Grant Halter and the Augustana Vikings suffered their first CCIW loss Saturday, falling 5-0 at home to North Park.
ROCK ISLAND, Ill. - Two goals each by Filip Lindmark and Sehten Hills led visiting North Park to a 5-0 defeat of Augustana at Ericson Field Saturday. The loss was the first in conference play for the Vikings, who are now 6-8-1 overall and 2-1-0 in the CCIW. North Park improves to 7-4-1 overall and 2-1-1 in the conference.
Lindmark got the visitors on the board first when he scored on an assist from Kris Grahn in the 29th minute. Augustana had a pair of excellent scoring opportunities late in the first half. In the 37th minute, Brett Bleecher's (Marist HS, Oak Lawn, Ill.) header off a Matt Shipon (South Elgin HS, Elgin, Ill.) free kick hit the left post and bounded way. Three and a half minutes later, Cory DeGrave's (Fremd HS, Palatine, Ill.) shot attempt on a free kick from 25 yards sailed just over the crossbar and the opening period ended with North Park leading 1-0.
It was all visitors from there as Hills scored his seventh and eighth goals of the season just two minutes apart early in the second half. James Kritico assisted on the first score and Grahn got his second of three assists in the match on the second.
In the 71st minute, Lindmark made it 4-0 with his second goal of the game and fourth of the season, getting help from Grahn's eighth assist of the year. The final North Park score came in the 81st minute, when Mike Herbst assisted on Effy Restrepo's first goal of the season.
Augustana will attempt to bounce back on the road as they travel to Wheaton, Illinois for a match against the Thunder on Wednesday, October 20. Game time will be 7:00 p.m.