October 16, 2010
2010 Season - Augustana remains perfect in the CCIW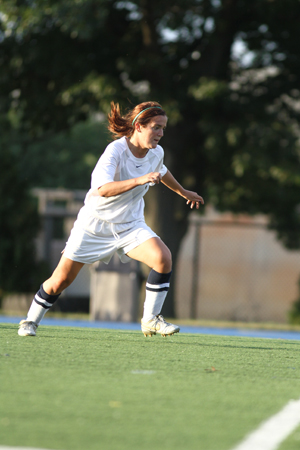 Kaitlyn Kinsella assisted on Augustana's second goal Saturday as the Vikings defeated North Park 2-0 to remain unbeaten on the season and perfect in the CCIW.
ROCK ISLAND, Ill. - Mary Pat Holtrop's (St. Charles North HS, St. Charles, Ill.) 25-yard blast off a corner kick from Ashley Higuchi (Smoky Hill HS, Aurora, Colo.) was all the scoring Augustana would need Saturday, but the Vikings added a second goal seven minutes later and went on to a 2-0 win over North Park at Ericson Field. With the win, 6th-ranked Augustana is now 11-0-2 overall and 3-0-0 in the CCIW.
Augustana peppered North Park goalkeeper Casey Faure with five shots on goal in the first 17-plus minutes of the match but Faure was up to the task, stopping all five. However, when she deflected the last of those over the end line it set up a corner kick for Higuchi. The Viking junior fed Holtrop, who buried a shot inside the far post from about 25 yards out on the left hand side. The goal was the first of the season for the Viking defender and it came on Higuchi's team-leading fourth assist of the year.
In the 25th minute, Higuchi and Kaitlyn Kinsella (Fremd HS, Hoffman Estates, Ill.) teamed up on a beautiful goal. Kinsella fired from 20 yards out front and Higuchi came in with a well-timed deflection that beat Faure and put Augustana up 2-0. It was Higuchi's fourth goal and Kinsella's second assist of the season. In the 33rd minute, Kinsella narrowly missed a goal of her own when her 20-yard blast from straight on bounced off the cross bar.
Augustana outshot the visitors by a 22-4 margin with 13 shots on goal. Faure was credited with 11 saves for North Park-now 4-10-1 overall and 1-3-0 in the conference-while Augustana keeper Kayla Radloff (West Chicago HS, Wes Chicago, Ill.) recorded a pair.
The Vikings hit the road on Wednesday, October 20, heading to Wheaton, Illinois for a match against the Wheaton Thunder. That game is scheduled for 4:30 p.m.