October 15, 2010
2010 Season - Vikings try to stay perfect on road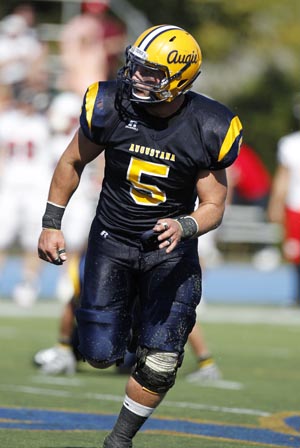 Brandon Holl and the Augustana defense will get a stiff test in Kenosha, Wisconsin on Saturday, October 16 against Carthage.
Augustana will try to maintain its perfect 2010 road record this week, traveling to Kenosha, Wisconsin for a 6:00 p.m. date with Carthage on Saturday. The Vikings dropped last Saturday's homecoming contest to 7th-ranked North Central by a score of 34-14 and will head to Kenosha 3-2 overall and 1-1 in CCIW play.
This past Saturday, North Central jumped on the Vikings early. The Cardinals took a 14-0 lead and piled up 165 yards in the first quarter and extended the lead to 20-0 on the second play of the second quarter. The Vikings bounced back— actually outgaining North Central in the second half—but had just dug themselves too deep a hole, falling to a top ten team for the second time this season.
This week's game pits the CCIW's most prolific passing offense against the league's top-rated pass defense. Carthage, who enters the contest 4-1 overall and 1-1 in the conference, is averaging 291.2 yards per game through the air while Augustana has allowed an average of just 150.2. Both figures lead the CCIW in their respective categories.
The man guiding the Red Man aerial attack is senior quarterback Evan Jones. A 2009 second team All-CCIW selection, Jones has completed 98 of 180 passes (.544) for 1,431 yards and 11 touchdowns this year while being intercepted five times. Last year he threw for 3,554 yards and is just 43 yards short of 8,000 for his career. His favorite targets have been wide receivers Mike Koeneman and Chris Schulz and running back Jake Smith. Koeneman has 25 receptions for 342 yards (13.7 per catch) and one touchdown while Schulz has been Jones' big play receiver, catching four touchdown passes and averaging 19.3 yards per reception (18-347). Smith has caught 24 passes for 300 yards, good for a 12.5-yard average—exceptional for a running back. Pete Djurickovic, son of Red Men basketball coach Bosko Djurickovic, has made 11 receptions for 189 yards as well.
Smith has been the main man on the occasions when Carthage decides to run the ball. He's carried 71 times for 319 yards (4.5 per carry) and five touchdowns. 2009 first team All-CCIW tackle Terrance Clark helps protect Jones and clear the way for Smith. Kicker Tyler Funk, also a first team all-conference pick last year, is another weapon for the Red Men. He has converted nine of 11 field goal attempts this season with a long of 52 yards.
Defensively, Carthage ranks fourth in the conference in rushing defense, giving up averages of 122.8 yards per game and 3.4 per carry. While the Red Men rank last in passing yards allowed per game (226.4), they're third in defensive pass efficiency (109.5). Overall, Carthage is averaging 34.4 points per game (3rd in the CCIW), allowing an average of 26.2 (7th) and is fourth (393.8 yards per game) and seventh (349.2 ypg), respectively, in total offense and defense.
In addition to allowing the fewest passing yard per game, the Augustana defense ranks second in the CCIW in total defense, giving up 281.0 yards per game. The Vikings rank fifth in the league in both rushing (130.8 ypg) and scoring defense (20.0 ppg). Individually, linebacker John Mago (Cary-Grove HS, Cary, Ill.) leads the team in tackles with 23 solo, 30 assists and 53 total. Joe Weber (Marmion Academy, South Elgin, Ill.) leads with 7.5 tackles for loss and four sacks.
On offense, David Lee (Springfield HS, Springfield, Ill.) is the CCIW's second-ranked passer with an efficiency rating of 153.4. He's completed 92 of 139 passes (.662) for 1,083 yards and 11 touchdowns. He's been intercepted just three times and is tied for the league lead in touchdown passes, ranks second in passing yards and completion percentage and is third in total offense (237.4 yards per game).
Corbett Ball (Buffalo Grove HS, Arlington Heights, Ill.), who caught eight passes against North Central, is the Vikings' leading receiver with 26 receptions for 248 yards and one touchdown. Kyle Hundman (Bloomington Central Catholic HS, Bloomington, Ill.) has snared 19 passes for 173 yards and Zach McCullough (St. Charles North HS, St. Charles, Ill.) has 10 catches for 253 yards and five touchdowns. Despite being hindered by an ankle injury early in the year, Robert Wood (Rockford Boylan HS, Loves Park, Ill.) is the team's leading ground gainer with 222 yards and three touchdowns on 61 carries.
COMPARING NUMBERS: While it's usually tough to compare conference statistics after just two league games, the fact that Augustana and Carthage have both opened against North Central and Millikin makes for an interesting look at their numbers. Carthage scored 56 points and allowed 67 against the Cardinals and Big Blue while Augustana scored 42 and allowed 58. Augustana has the edge in total offense (315.5 yards per game to 300.0) and total defense (326.5 to 440.0). The Vikings rushed for 284 yards and 3.7 per carry in the two games while Carthage managed just 150 yards and a 2.4 average. The Red Men produced 450 passing yards compared to Augustana's 347. The teams have been very comparable versus the run, with the Vikings allowing 410 yards and an average of 4.9 per carry and Carthage giving up 418 yards and 4.6 per carry. Augustana has had the better of it defending the pass, allowing 243 yards, while the Red Men surrendered 462.