October 15, 2010
2010 Season - Coverick's seventh leads Vikings at Loras Invite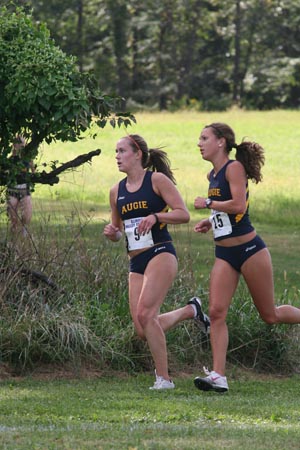 Sophomore Theresa Coverick (left) and senior Hannah Hottle (right) both recorded top 10 individual finishes at the Loras Invitational on Friday, October 15 in Dubuque, Iowa. Coverick was seventh and Hottle 10th as the Vikings took second in the team standings.
A pair of top 10 finishes helped propel Augustana to a second place finish at the Bob Tucker Invitational, which was hosted by Loras College, on Friday, October 15 in Dubuque, Iowa. Sophomore Theresa Coverick (Stagg HS, Palos Park, Ill.) led the way for the Vikings by taking seventh with a time of 23:33.4 over 6,000 meters. She was joined in the top 10 by senior teammate Hannah Hottle (Monmouth-Roseville HS, Monmouth, Ill.), who placed 10th with a time of 23:46.4.
Obsie Birru of Grand View won the individual title with a time of 21:09.1. She won by a wide margin over second place finisher Anna Buenneke of North Iowa Community College, who had a time of 22:27.7 in the runner-up slot.
Loras won the team title with 41 points by putting four runners in the top nine individual slots. Augustana was second with 64 points while Grand View was a close third with 68. North Iowa Community College took fourth with 88, Rockford was fifth with 102 and Southwestern Community College was sixth with 168.
Sophomore Sarahbeth Jones (Warren Township HS, Wadsworth, Ill.) was the third Augustana finisher, taking 13th in 24:14.0. Sophomore Annie Heifner (Oregon HS, Oregon, Wis.) placed 18th in 24:40.1 and sophomore Tara Bistry (Joliet Catholic HS, Shorewood, Ill.) was 19th in 24:26.6. Sophomore Kirstillyn Pohlman (Zion Benton HS, Winthrop Harbor, Ill.) finished 20th in 24:46.9 and freshman Emma Grandgeorge (Sycamore HS, Sycamore, Ill.) rounded out the Vikings top seven by taking 24th in 24:55.7.
Augustana will be in action on Saturday, October 23 at the St. Ambrose Invitational, which will be held at Crow Creek Park in Bettendorf, Iowa.