Education grad is passing it forward
Bryan Kett, honored for teaching excellence, credits his own instructors and professors
October  15, 2010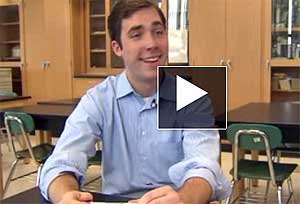 Bryan Kett '08, WGN-TV's Teacher of the Month in September, is featured in a video report.
Bryan Kett '08, selected as WGN-TV's Teacher of the Month in September, credits this early success to his high school teachers and Augustana professors who invested themselves in their classes and truly cared about him as an individual.
"From being in classes where this took place, I've embraced the value of developing that rapport with those I now have in class," Kett says. "After all, I've got to spend 180 days with them. I might as well make things comfortable and fun."
Kett was nominated for the honor by his science students at Maine East High School in Park Ridge, Ill. In the WGN news report, Maine East senior Megan Mistretta describes how Kett helped her rediscover her love of learning after her mother passed away.
"I kind of gave up for a while... all my grades dropped, English, everything," she told WGN. "It wasn't until I had Mr. Kett that I really started to feel encouraged, and doing good in his class made me try harder in everything else. It was really important because that was the year I had the ACT, and I was planning for college and my future so it changed everything for me."
Other students interviewed by the Chicago television station applauded Kett's leadership, enthusiasm and his ability to connect with the way high school students think.
Kett says he learned from some of the best. Education professors Dr. Michael Schroeder and Dr. Patricia Shea are two of Kett's Augustana mentors in and out of the classroom -- past and present. He continues to email them regularly and returns to the Quad Cities at least once a year to visit.
"They're two of the brightest people I've ever met, and what sets them apart from other educators I've had is how selfless they are and how each of them has such a stake in the future of their students," Kett says. "It's something I strive for and is definitely one of the underlying motives behind my own practices."
---
"One of the most pleasurable dimensions of my experience at Augustana has been staying in touch with our graduates, and I think the same could be said for everyone in the education department. We maintain regular communications with dozens (if not hundreds) of alums via email messaging, blogs and other means. They are heavily involved in the program and inform what we do in so many ways."
-- Dr. Michael Schroeder
education professor and department co-chair
---
Last summer, Kett joined a group of Maine East students for a weeklong service trip to Iowa. Nothing brings people together like hanging drywall in a house for a week or playing serious ping-pong.
"Bryan possesses qualities not often found together in one person -- great intellect, compassionate heart, delightful sense of humor, never-ending curiosity, depth of spirit and a firm grasp of the art and science of teaching," says Shea, his former professor. "All of these qualities and his deep respect for each person make it easy for his students to connect with him, on so many levels."
According to Schroeder, while Kett was studying at Augustana, he showed an extraordinary commitment to working with young people, particularly those from disadvantaged backgrounds; he thought carefully about where he should teach and whom he should ultimately serve.
"It's great to see Augie grads making a real difference, and it's rewarding to know that there are hundreds of alumni like Bryan achieving great things in our nation's schools," Schroeder says.
When asked what advice he'd pass on to current education majors at Augustana, Kett emphasized taking advantage of available resources in the department. "This may be the only time in your life when you have so many people at hand who can provide tremendous guidance for the rest of your life. Go talk to Randy (education professor Randy Hengst). He gets it."