Alum who lives his dream has advice
'Develop your education as something that is individualized to you,' says director McKinley
October  15, 2010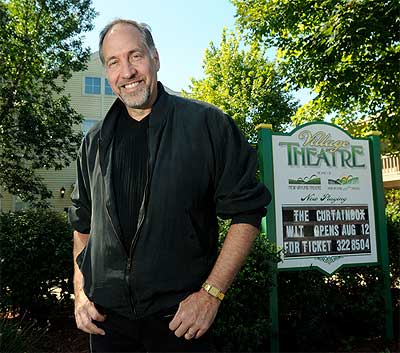 Philip McKinley outside the theater in Davenport where he directed the play "Wit" last summer. (Photo courtesy of The Dispatch and The Rock Island Argus/Todd Mizener)
Philip McKinley '73 describes himself as one who has lived out his dreams — owning a new production business, directing spectacular productions throughout Europe and Asia, directing Hugh Jackman in the TONY award winning "The Boy From Oz." on Broadway and being the guy who has directed more editions of Ringling Bros. & Barnum and Bailey circus than any other living person.
The path to his success, McKinley says, started with his decision as an Augustana student to declare five majors — education, speech and drama, music, English and art — and still manage to graduate in three years.
Today, the acclaimed director is known for his gift to create memorable productions no matter the size, budget or actor involved, and he is quick to credit his experience at Augustana.
"I had an amazing group of teachers/mentors — Dennis Hitchcock, Dorothy Parkander, Dean (Betsey) Brodahl, Ann Boaden, Ruth Holmen, Don Morrison, Gary Hobbs and Rev. Richard "Swanie" Swanson are just a few among the many who were incredibly supportive and allowed me to incorporate all these different disciplines into required courses," said McKinley. "Augustana provided me with a true liberal arts education and background, and there is no value you can put on it. It is priceless."
For Augustana students thinking about their own journeys, McKinley offers some advice: "Really consider how to develop your education as something that is individualized to you, something that will separate you from the crowd and give you an opportunity in the job market."
McKinley, a native of Avon, Ill., planned to return to his hometown to be near family, but while directing the play "Wit" for Kim Furness at the Curtainbox Theatre in Davenport, Iowa, this summer, his real estate agent, Sharon Tahare, found McKinley a home in the Quad Cities that was meant to be his.
"I knew this was the house as soon as I walked in the door. I direct and produce multi-million dollar projects all over the world and coming back home is nice – it gives me a sense of normalcy," he added.
For more on Phillip McKinley's career, see Acclaimed director returns to Q-C roots by Jonathan Turner for The Dispatch and The Rock Island Argus.