October 15, 2010
2010-11 Season - 2010-11 WOMEN'S BASKETBALL PREVIEW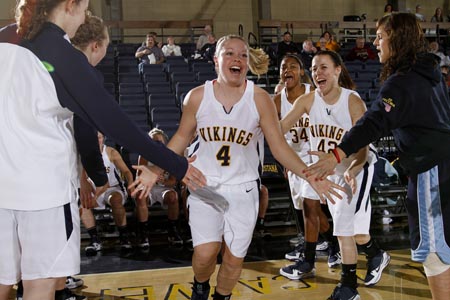 A total of four starters return to the Vikings for the 2010-11 season after accumulating their highest win total since 2003 during the 2009-10 campaign.
GENERAL INFORMATION
NAME: Augustana
CITY/ZIP: Rock Island, Illinois 61201
FOUNDED: 1860
NICKNAME: Vikings
SCHOOL COLORS: Blue & Gold
ARENA: Carver PE Center (1971)
CAPACITY: 1,900
ATHLETIC AFFILIATION: NCAA Division III
RELIGIOUS AFFILIATION: Evangelical Lutheran Church in America (ELCA)
CONFERENCE: College Conference of Illinois & Wisconsin (CCIW)
PRESIDENT: Steven Bahls
ATHLETIC DIRECTOR: Mike Zapolski
ATHLETIC DEPARTMENT PHONE: (309) 794-7521

BASKETBALL HISTORY
FIRST YEAR OF BASKETBALL: 1975
OVERALL ALL TIME RECORD: 471-395 (.544) in 35 years
COLLEGE CONFERENCE OF ILLINOIS & WISCONSIN CHAMPIONS: 1987-1989-1990-1991-1993
NCAA DIVISION III PLAYOFF APPEARANCES: Seven (1993 - Lost in first round; 1991 - Lost in first round; 1990 - Third place in North Regional; 1989 - Lost in North Regional Championship; 1987 - Third place in North Regional; 1983 - Third place in North Regional; 1982 - North Regional Champions, lost in national quarterfinals.)...NCAA Division III playoff record is 5-7.
AIAW PLAYOFF APPEARANCES: Four (1981 - Illinois State Champions, lost in first round of Midwest Regional; 1980 - Lost in state championship title game; 1979 - Lost in second round of state championship; 1976 - Third place in state championship)...AIAW playoff record is 9-4.
SPORTS INFORMATION
SPORTS INFORMATION DIRECTOR; Dave Wrath
SID OFFICE PHONE: (309) 794-7265
WRATH'S CELL PHONE: (309) 737-5306
SID FAX: (309) 794-7525
SID MAILING ADDRESS: Dave Wrath, Sports Information Director, Carver PE Center, Augustana College, Rock Island, Illinois 61201
E-MAIL ADDRESS: davewrath@augustana.edu
AUGUSTANA ATHLETICS WEB SITE: http//www.augustana.edu.

COACHING STAFF
HEAD COACH: Bobbi Endress (University of Dubuque – 2000)
ENDRESS RECORD AS HEAD COACH: 55-101 overall…36-20 in two years at Edgewood College & 19-81 in four years at Augustana
ASSISTANT COACH: Mark Beinborn
BASKETBALL OFFICE PHONE: (309) 794-7538
TRAINER: Rochel Rittgers (Northern Iowa 1981)
TEAM INFORMATION
2009-10 RECORD: 7-18 (.280) overall; 6-5 (.545) at home; 0-13 (.000) on the road and 1-0 (1.00) at neutral sites
2009-10 CCIW RECORD: 2-12 (.143) overall; 2-5 (.286) at home and 0-7 (.000) on the road.
STARTERS RETURNING: Four – Kristen Fox (Ottawa HS, Ottawa, Ill.), 5-8 Senior...11.2 ppg...4.9 rpg...85.1% ft......15 assists...26 steals...Dori Gills (Holy Family HS, Boulder, Colo.), 5-10 Sophomore...6.2 ppg...3.5 rpg...66.7% ft...21 assists...15 steals...Natalie Runge (St. Dominic HS, O'Fallon, Missouri), 5-10 Junior... 9.2 ppg...5.8 rpg...45.9% fg...29 assists...10 steals... Kristin Warnken (Centaurus HS, Erie, Colo.), 5-5 Sophomore...5.8 ppg...2.8 rpg...30.5% 3pt...52 assists...29 steals.
OTHER KEY RETURNEES: Dawn Kernich (Mt. Olive HS, Mt. Olive, Ill.), 5-7 Senior...4.2 ppg...3.1 rpg...47.4% fg...21 assists...14 steals....Abbi Staples (Sterling HS, Sterling, Ill.), 5-5 Junior...3.8 ppg...1.9 rpg...36.4% 3pt...66.7% ft...35 assists.
STARTERS LOST: One – Lani Kasten (Forreston HS, German Valley, Ill.), 5-11 Sophomore…9.8 ppg, 6.5 rpg...46.6% fg...67.3% ft...47 assists...21 blocked shots...28 steals.
LETTERWINNERS RETURNING/LOST: 14/One
2009-10 AUGUSTANA SUPERLATIVES
MOST VALUABLE PLAYER: Natalie Runge
DEFENSIVE AWARD: Dawn Kernich
MOST IMPROVED: Alyssa Neitzel
VIKING AWARD: Natalie Runge
WINDEX (REBOUNDING) AWARD: Lani Kasten
CCIW ACADEMIC ALL-CONFERENCE: Kelsey Mikula, Kayla Papish, Jessica Scott
COACH'S AWARD: Dawn Kernich
JUNIOR VARSITY MVP: Jessica Scott & Courney Bielis