October 14, 2010
2010 Season - Lake Forest snaps Augustana winning streak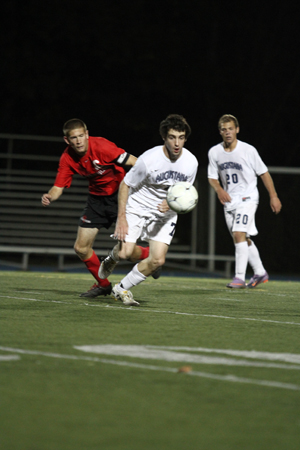 Senior Greg Maggio's second half goal was waved off on an offside call and the Vikings eventually fell to Lake Forest 1-0 in double overtime.
ROCK ISLAND, Ill. - Lake Forest's Charlie Brey lofted in a 40-yard shot with just 2:20 left in the second overtime Thursday, giving the Foresters a 1-0 win over Augustana at Ericson Field. Brey's first goal of the season helped Lake Forest improve to 8-4-0 on the year. The loss snapped a four-game winning streak for Augustana, which is now 6-7-1.
With time running out Brey fired from far out on the right side and his shot just cleared the reach of Viking goalkeeper Tyler Cowherd (Bettendorf HS, Bettendorf, Iowa). It was only the second shot the Forester defender has attempted this season.
The final shot totals were nearly even with the Vikings holding a 15-14 edge in total shots and Lake Forest a 10-7 advantage in shots on goal. Cowherd was credited with nine saves in the match while his counterpart for the Foresters, Melvin Flores, had seven. Senior Greg Maggio (Wheaton Warrenville South HS, Wheaton, Ill.) was the most active of the Vikings on the attack, getting off four shots, three of which were on goal. He also had a second-half goal waved off on an offside call.
Augustana will try and rebound on Saturday when it hosts North Park in a 3:30 match at Ericson Field. That game will be the second of a women's/men's doubleheader.