October 13, 2010
2010 Season - Sixth-ranked Vikings defeat Edgewood 2-0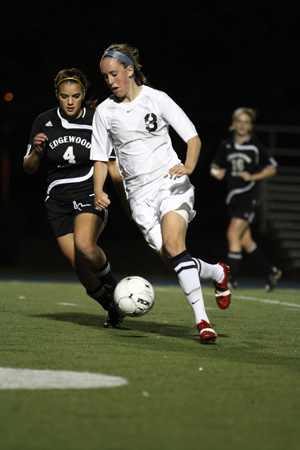 Taylor Moesle's 10th goal of the season got the Vikings started Wednesday as they cruised to a 2-0 win over Edgewood.
ROCK ISLAND, Ill. - Augustana scored both of its goals in the first 23 minutes Wednesday and coasted to a 2-0 win over Edgewood at Ericson Field. The Vikings, ranked sixth in the nation in Division III, improve to 11-0-2 on the year while Edgewood falls to 10-4-1.
Taylor Moesle (Sandburg HS, Orland Park, Ill.) got the Vikings on the board early with a 25-yard blast to the left of Eagle goalkeeper Kristi Frisch. The goal, Moesle's team-leading 10th of the season, came with just under nine minutes gone in the match.
The Vikings extended the lead to 2-0 in the 23rd minute when Jessica Dodds (Linn-Mar HS, Marion, Iowa) lofted a beautiful pass from near midfield which Erin Coulson (Naperville Neuqua Valley HS, Hermosa Beach, Calif.) gathered on the run and put in the net. The goal was Coulson's fifth of the season and Dodds was credited with her third assist.
The defense took it from there, posting its 11th shutout in 13 games this year. Goalkeeper Kayla Radloff (West Chicago HS, West Chicago, Ill.) faced just four shots on the night, recording two saves. The Vikings finished with 22 shots in the match, including 10 on goal. Moesle was active, firing six shots, five of which were on goal. Frisch was credited with eight saves.
Augustana, currently 2-0-0 in CCIW play, jumps back into conference action on Saturday, hosting North Park at Ericson Field at 1:00 p.m. That game will be the first of a women's/men's doubleheader.