October 13, 2010
2010 Season - Vikings move up one spot to sixth in nation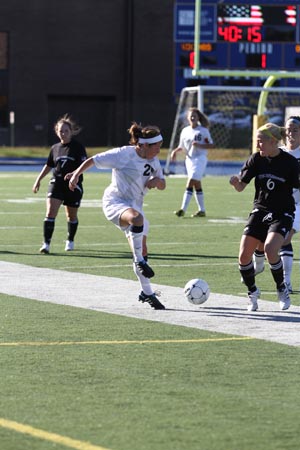 Erin Coulson and the Augustana women's soccer team moved up to sixth in the NCAA Division III national ranking this week. The Vikings are currently 10-0-2 on the season.
Victories last week against Wisconsin-Whitewater and Millikin helped Augustana move up one notch in the NCAA Division III national women's soccer poll. The Vikings beat UW-Whitewater 5-0 on Tuesday, October 5 at home and then went on the road and defeated Millikin 4-2 on Saturday, October 9 in Decatur, Illinois.
Augustana is currently 10-0-2 overall and a perfect 2-0-0 in the College Conference of Illinois & Wisconsin and will play tonight (October 13) at home against Edgewood.
Messiah is the number one ranked team in the nation with a perfect 11-0-0 record while Hardin-Simmons is second with an identical 11-0-0 mark. The Vikings were seventh a week ago before moving up to sixth this week.
2010 NCAA DIVISION III WOMEN'S SOCCER RANKINGS
Compiled by National Soccer Coaches Association of America *** as of October 13, 2010
| | | | |
| --- | --- | --- | --- |
| RANK | TEAM | PREV. | RECORD |
| 1. | Messiah (PA) | 1 | 11-0-0 |
| 2. | Hardin-Simmons | 3 | 11-0-0 |
| 3. | College of New Jersey | 2 | 11-0-1 |
| 4. | Illinois Wesleyan | 4 | 13-0-0 |
| 5. | Otterbein | 5 | 10-0-1 |
| 6. | AUGUSTANA | 7 | 10-0-2 |
| 7. | Loras | 8 | 12-1-0 |
| 8. | Johns Hopkins | 10 | 10-2-0 |
| 9. | Ithaca | 10 | 9-2-0 |
| 10. | Trinity | 12 | 10-1-0 |
| 11. | William Smith | 14 | 9-2-2 |
| 12. | Wheaton | 21 | 11-2-0 |
| 13. | Eastern Connecticut | NR | 11-0-1 |
| 14. | Williams | 9 | 6-3-1 |
| 15. | Emory | 13 | 8-1-2 |
| 16. | Centre | 23 | 12-1-0 |
| 17. | Wisconsin-Stevens Point | 6 | 11-1-0 |
| 18. | Stevens Tech | 17 | 11-2-1 |
| 19. | Puget Sound | RV | 10-1-1 |
| 20. | Allegheny | 16 | 10-0-2 |