October 10, 2010
2010-11 Season - Vikings tie for second at CCIW Tournament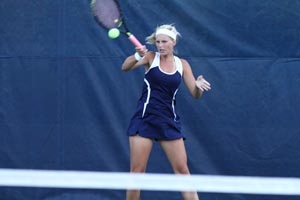 Krista Panko turned in a terrific CCIW Tournament, finishing 5-2 overall while advancing to the finals of No. 2 doubles and taking third at No. 5 singles. She finished the fall with a record of 10-8 in singles and a 10-6 mark in doubles.
MOLINE, Ill. – The Augustana women's tennis team wrapped up its fall season by tying for second place finish at the College Conference of Illinois & Wisconsin Championship on Friday, October 8 and Saturday, October 9 at Quad City Tennis Club in Moline, Illinois. The Vikings were led by a pair of second place finishes at No. 2 singles and No. 2 doubles and finished the two day event with 37 points. It is the highest finish for the Blue & Gold since 1997 when Augustana won its last team title.
Wheaton won the team crown with 78 points, followed by Augustana and Carthage at 37 points apiece. Illinois Wesleyan took fourth with 34 points and North Central placed fifth with 28 points. Elmhurst was sixth with 11 points and Millikin ended up in seventh with 0 points.
Freshman Kim Sawyer (Batavia HS, Batavia, Ill.) tallied the best finish in singles with a runner-up showing in the No. 2 singles flight. She defeated Kelsy Whitney of Millikin (6-0, 6-0) and Andrea Kerwin of Illinois Wesleyan (6-2, 6-3) to advance to the championship match. Although she fell (6-1, 6-2) to Wheaton's Sara Federschmidt, Sawyer still scored six points and ended the fall with a singles record of 15-5.
Freshman Shannen McNamara (Battle Mountain HS, Avon, Colo.), senior Tricia Sapio (Barrington HS, Hoffman Estates, Ill.), and sophomore Krista Panko (Geneva HS, Geneva, Ill.) added third place finishes, each scoring five points. McNamara was a (6-0, 6-0) winner against Millikin's Anna Litwin in the opening round before losing (6-2, 6-0) to Hollis McPeek of Carthage in the semi-finals. She rebounded with a pair of (8-1) victories against Cory Schillerstrom of North Central and Virginia Dallman of Elmhurst to take third place in the No. 1 singles flight.
Sapio also won her quarterfinal match, pulling away to defeat Alex Stark of Elmhurst (7-6 (4), 6-1). After dropping a (6-3, 6-3) decision to Cassie Devore of Illinois Wesleyan, Sapio came right back with an (8-2) victory against Carthage's Kelsey Bowen in the consolation bracket. She met Maggie Youel of North Central in the third place match where the duo battled back and forth before Sapio gutted out a (9-8 (5)) victory to claim the third spot in the No. 4 singles flight.
Panko had a terrific tournament, knocking off two players that she had lost to during the season on the way to a third place showing in the No. 5 singles flight. She opened the event by avenging a regular season loss to North Central's Katie Hatch, earning a (6-3, 2-6, 6-1) victory to advance to the semi-finals. After a (6-0, 6-1) loss to Kirsten Boyer of Wheaton, Panko rolled past Alexis Ross of Elmhurst (8-2) to set up a pivotal match with Alissa Goetz of Illinois Wesleyan. Goetz had defeated Panko during the regular season and this match was crucial with the tournament nearing its end. Panko fell behind 3-0, but rallied back to win (8-5) and secure a key two points for the Vikings.
Senior Sheri Hendricks (Wheaton Warrenville South HS, Warrenville, Ill.) finished fourth at No. 6 singles while freshman Samantha Tonn (Moline HS, Moline, Ill.) dropped her first two matches in the No. 3 singles flight. Hendricks fell (4-6, 6-1, 7-5) to Allison Ignarski of North Central in the semi-finals after receiving a first round bye. She rebounded by defeating Carthage's Holly Weber (8-3) to avenge a regular season defeat, but lost (8-3) to Lauren Drawbridge in the third place match. Tonn lost (6-3, 6-2) to Illinois Wesleyan's Liz Exo in the opening round and then fell (8-3) to Conover of North Central after receiving a bye in the first round of the back draw.
Tonn and Panko turned in the strongest showing in doubles action, defeating squads from Carthage and North Central that had beaten Augustana during the regular season in route to a second place finish in the No. 2 doubles flight. The Viking tandem was a (6-1, 6-4) winner over Bari Reynolds and Amanda Bizub of Carthage in the quarterfinals. In the semi-finals, Tonn and Panko upset the top-seeded duo from North Central, rallying from a one set deficit to defeat Alicia DeGrado and Youel (1-6, 6-0, 6-2) to advance to the final. Augustana fell (6-1, 6-2) to Lindsey Hallett and Marissa Shults in the championship match, but still walked away with six points overall.
McNamara and Sawyer teamed together for a fourth place finish at No. 1 doubles. The duo started off impressively with a (6-2, 6-0) victory against Dallman and Stephanie Ruff of Elmhurst. After losing (6-1, 6-3) to McPeek and Kristina Naidicz of Carthage, they edged North Central's Schillerstrom and Conover (8-6) to advance to the third place match. McNamara and Sawyer lost an (8-4) decision to Helen Alex and Kerwin of Illinois Wesleyan in their final match of the tournament.
Sapio and junior Brittany Reece (Naperville Neuqua Valley HS, Naperville, Ill.) also paired together for a fourth place showing at No. 3 doubles. After a first round bye, they dropped a hard fought (6-3, 4-6, 6-4) match-up to Illinois Wesleyan's Drawbridge and Goetz in the semi-finals. In the consolation bracket, Sapio and Reece cruised to an (8-2) win against Ross and Emily Tarlini of Elmhurst, but fell (8-6) to North Central's Hatch and Ignarski in the third place match.
Augustana will resume action during its spring trip to Orlando, Florida in March. The Vikings will play around 15 matches during the spring season and also compete in the CCIW Automatic Qualifier Tournament on May 6-7 in Bloomington, Illinois with a berth into the national tournament going to the winner of the event. Augustana receives the No. 2 seed by virtue of its 5-4 win over Carthage earlier this fall and will face the No. 3 seed Lady Reds in the semi-final round. Top-seeded Wheaton will match-up with No. 4 seed Illinois Wesleyan on the other half of the bracket.
10/08-09/10 – Augustana @ CCIW Championships – T-2nd place (37 points)
| | |
| --- | --- |
| POS | RESULT |
| Singles | |
| 1. | Shannen McNamara (AUGIE) def. Anna Litwin (MILLIKIN) 6-0, 6-0 |
| 1. | Hollis McPeek (CARTHAGE) def. Shannen McNamara (AUGIE) 6-2, 6-0 |
| 1. | Shannen McNamara (AUGIE) def. Cory Schillerstrom (NCC) 8-1 |
| 1. | Shannen McNamara (AUGIE) def. Virginia Dallman (ELMHURST) 8-1 |
| 1. | Shannen McNamara (AUGIE) finishes 3rd @ No. 1 Singles |
| 2. | Kim Sawyer (AUGIE) def. Kelsy Whitney (MILLIKIN) 6-0, 6-0 |
| 2. | Kim Sawyer (AUGIE) def. Andrea Kerwin (IWU) 6-2, 6-3 |
| 2. | Sara Federschmidt (WHEATON) def. Kim Sawyer (AUGIE) 6-1, 6-2 |
| 2. | Kim Sawyer (AUGIE) finishes 2nd @ No. 2 Singles |
| 3. | Liz Exo (IWU) def. Samantha Tonn (AUGIE) 6-3, 6-2 |
| 3. | Abby Conover (NCC) def. Samantha Tonn (AUGIE) 8-3 |
| 4. | Tricia Sapio (AUGIE) def. Alex Stark (ELMHURST) 7-6 (4), 6-1 |
| 4. | Cassie Devore (IWU) def. Tricia Sapio (AUGIE) 6-3, 6-3 |
| 4. | Tricia Sapio (AUGIE) def. Kelsey Bowen (CARTHAGE) 8-2 |
| 4. | Tricia Sapio (AUGIE) def. Maggie Youel (NCC) 9-8 (5) |
| 4. | Tricia Sapio (AUGIE) finishes 3rd @ No. 4 singles |
| 5. | Krista Panko (AUGIE) def. Katie Hatch (NCC) 6-3, 2-6, 6-1 |
| 5. | Kirsten Boyer (WHEATON) def. Krista Panko (AUGIE) 6-0, 6-1 |
| 5. | Krista Panko (AUGIE) def. Alexis Ross (ELMHURST) 8-2 |
| 5. | Krista Panko (AUGIE) def. Alissa Goetz (IWU) 8-5 |
| 5. | Krista Panko (AUGIE) finishes 3rd @ No. 5 Singles |
| 6. | Allison Ignarski (NCC) def. Sheri Hendricks (AUGIE) 4-6, 6-1, 7-5 |
| 6. | Sheri Hendricks (AUGIE) def. Holly Weber (CARTHAGE) 8-3 |
| 6. | Lauren Drawbridge (IWU) def. Sheri Hendricks (AUGIE) 8-3 |
| 6. | Sheri Hendricks (AUGIE) finishes 4th @ No. 6 Singles |
| Doubles | |
| 1. | Shannen McNamara/Kim Sawyer (AUGIE) def. Virginia Dallman/Stephanie Ruff (ELMHURST) 6-2, 6-0 |
| 1. | Hollis McPeek/Kristina Naidicz (CARTHAGE) def. Shannen McNamara/Kim Sawyer (AUGIE) 6-1, 6-3 |
| 1. | Shannen McNamara/Kim Sawyer (AUGIE) def. Cory Schillerstrom/Abby Conover (NCC) 8-6 |
| 1. | Helen Alex/Andrea Kerwin (IWU) def. Shannen McNamara/Kim Sawyer (AUGIE) 8-4 |
| 1. | Shannen McNamara/Kim Sawyer (AUGIE) finish 4th @ No. 1 Doubles |
| 2. | Samantha Tonn/Krista Panko (AUGIE) def. Bari Reynolds/Amanda Bizub (CARTHAGE) 6-1, 6-4 |
| 2. | Samantha Tonn/Krista Panko (AUGIE) def. Alicia DeGrado/Maggie Youel (NCC) 1-6, 6-0, 6-2 |
| 2. | Lindsey Hallett/Marissa Shults (WHEATON) def. Samantha Tonn/Krista Panko (AUGIE) 6-1, 6-2 |
| 2. | Samantha Tonn/Krista Panko (AUGIE) finish 2nd @ No. 2 Doubles |
| 3. | Lauren Drawbridge/Alissa Goetz (IWU) def. Tricia Sapio/Brittany Reece (AUGIE) 6-3, 4-6, 6-4 |
| 3. | Tricia Sapio/Brittany Reece (AUGIE) def. Emily Tarlini/Alexis Ross (ELMHURST) 8-2 |
| 3. | Katie Hatch/Allison Ignarski (NCC) def. Tricia Sapio/Brittany Reece (AUGIE) 8-6 |