October 3, 2010
2010-11 Season - Sapio advances to 3rd round at ITA Regional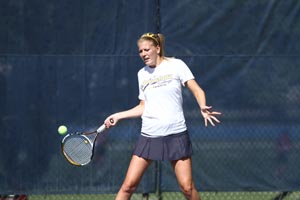 Tricia Sapio advanced to the third round of the ITA main draw in singles, defeating opponents from Kalamazoo and Elmhurst in the opening two rounds. She extended her singles winning streak to nine straight matches before losing to Case Western Reserve in the Round of 32. Sapio is 12-4 in singles this season.
ST. LOUIS, Mo. – The Augustana women's tennis team competed at the Intercollegiate Tennis Association (ITA) Regional Tournament in St. Louis, Missouri this past weekend and came away with 12 victories at the three day event. Senior Tricia Sapio (Barrington HS, Hoffman Estates, Ill.) advanced to the third round of the singles draw while freshmen Shannen McNamara (Battle Mountain HS, Avon, Colo.) and Kim Sawyer (Batavia HS, Batavia, Ill.) paired together to earn a spot in the third round of the doubles draw.
Augustana had six of its eight participants reach the second round of the singles tournament. Sapio won (7-6 (4), 6-3) against Kalamazoo's Jenna Riehl in the first round. She would later go on to defeat Stephanie Ruff of Elmhurst (4-6, 6-0, 6-3)) before finally falling (6-1, 6-0) to Case Western's Bianca Patel in the Round of 32. Sophomore Krista Panko (Geneva HS, Geneva, Ill.) won her first round match, defeating Natalie Atroshenko of Lake Forest (6-4, 6-2). Senior Sheri Hendricks (Wheaton Warrenville South HS, Warrenville, Ill.) rallied to defeat DePauw's Aileen Hoffman (3-6, 7-5, 6-4) in her opening match. Junior Brittany Reece (Naperville Neuqua Valley HS, Naperville, Ill.) beat Principia's Haillie Stock (6-2, 6-4) to move into the Round of 64. Freshman Samantha Tonn (Moline HS, Moline, Ill.) was also a first round winner, edging Deepika Ramachandran of Lake Forest (6-4, 7-5). McNamara was seeded and received a first round bye.
Although Sawyer and sophomore Meghan Wethington (Geneseo HS, Geneseo, Ill.) lost in the first round, both put together competitive matches against the opposition. Sawyer dropped a (6-2, 6-4) decision to Alex Cassady of Wash U., while Wethington fell (7-5, 6-3) to Emily Shapiro of Kenyon. Sawyer went on to win three straight matches in the back draw before losing a third set super tie-breaker to the eventual consolation champion. Wethington also won one match in the back draw. McNamara competed in the consolation bracket after dropping her second round match to Corinne Rauck of Wash U. She lost (6-3, 6-3) to Tricia Wilks of DePauw, who would advance to the semi-finals of the back draw before being eliminated.
Sapio and Reece earned a first round victory in doubles, defeating Mary Arnold and Kaitlyn Kernan of DePauw by an (8-1) score. They dropped an (8-4) decision to No. 9 seed Sarah Short and Kate Westenberger of Denison in the second round. McNamara and Sawyer were seeded and received a first round bye before defeating Kenyon's Amanda Polster and Lydia Winkler (8-3) in the second round. The Viking duo lost (8-1) to Chicago's Linden Li and Carmen Vacaguzman in the Round of 16. The No. 4 seed from Chicago advanced to the championship match before finishing second.
10/01-03/10 – ITA Regional @ Wash U.
| | |
| --- | --- |
| POS | RESULT |
| Singles | |
| ITA – 128 | Tricia Sapio (AUGIE) def. Jenna Riehl (KZOO) 7-6 (4), 6-3 |
| ITA – 128 | Emily Shapiro (KENYON) def. Meghan Wethington (AUGIE) 7-5, 6-3 |
| ITA – 128 | Alex Cassady (WASH U.) def. Kim Sawyer (AUGIE) 6-2, 6-4 |
| ITA – 128 | Krista Panko (AUGIE) def. Natalie Atroshenko (LF) 6-4, 6-2 |
| ITA – 128 | Sheri Hendricks (AUGIE) def. Aileen Hoffmann (DEPAUW) 3-6, 7-5, 6-4 |
| ITA – 128 | Brittany Reece (AUGIE) def. Haillie Stock (PRINCIPIA) 6-2, 6-4 |
| ITA – 128 | Samantha Tonn (AUGIE) def. Deepika Ramachandran (LF) 6-4, 7-5 |
| ITA – 64 | Tricia Sapio (AUGIE) def. Stephanie Ruff (ELMHURST) 4-6, 6-0, 6-3 |
| ITA – 64 | No. 7 Erika Lim (CASE) def. Krista Panko (AUGIE) 6-0, 6-0 |
| ITA – 64 | No. 25 Melika Celebic (LF) def. Sheri Hendricks (AUGIE) 6-2, 6-2 |
| ITA – 64 | Corinne Rauck (WASH U.) def. No. 17 Shannen McNamara (AUGIE) 7-5, 6-1 |
| ITA – 64 | No. 12 Samantha Lewis (CASE) def. Brittany Reece (AUGIE) 6-0, 6-0 |
| ITA – 64 | No. 5 Kristin Cobb (DENISON) def. Samantha Tonn (AUGIE) 6-0, 6-0 |
| ITA – 32 | Bianca Patel (CASE) def. Tricia Sapio (AUGIE) 6-1, 6-0 |
| ITA – Cons | Kim Sawyer (AUGIE) def. Elizabeth Douglass (KENYON) 6-0, 6-2 |
| ITA – Cons | Tricia Wilks (DEPAUW) def. No. 17 Shannen McNamara (AUGIE) 6-3, 6-3 |
| ITA – Cons | Meghan Wethington (AUGIE) def. Michelle Tuma (ONU) 2-4, retire (illness) |
| ITA – Cons | Kim Sawyer (AUGIE) def. Caroline Korthals (PRINCIPIA) 6-0, 6-0 |
| ITA – Cons | Cassie Devore (IWU) def. Meghan Wethington (AUGIE) 6-1, 6-1 |
| ITA – Cons | Kim Sawyer (AUGIE) def. Sarah Corbitt (PRINCIPIA) 6-0, 6-3 |
| ITA – Cons | Jane Lent (DENISON) def. Kim Sawyer (AUGIE) 6-2, 1-6, (10-6) |
| Doubles | |
| ITA – 64 | Anne Beauch/Emma Bilyeu (WITT) def. Sheri Hendricks/Meghan Wethington (AUGIE) 8-4 |
| ITA – 64 | Theresa Petraskova/Elise Sambol (WASH U.) def. Samantha Tonn/Krista Panko (AUGIE) 9-7 |
| ITA – 64 | Tricia Sapio/Brittany Reece (AUGIE) def. Mary Arnold/Kaitlyn Kiernan (DEPAUW) 8-1 |
| ITA – 32 | No. 9 Shannen McNamara/Kim Sawyer (AUGIE) def. Amanda Polster/Lydia Winkler (KENYON) 8-3 |
| ITA – 32 | No. 9 Sarah Short/Kate Westenberger (DENISON) def. Tricia Sapio/Brittany Reece (AUGIE) 8-4 |
| ITA – 16 | No. 4 Linden Li/Carmen Vacaguzman (CHICAGO) def. No. 9 Shannen McNamara/Kim Sawyer (AUGIE) 8-1 |
| ITA – Cons | No. 9 Becky Mittler/Caitlyn Pecinovsky (B-W) def. Samantha Tonn/Krista Panko (AUGIE) 8-4 |
| ITA – Cons | Kathleen Evers/Theresa Smetona (CASE) def. Sheri Hendricks/Meghan Wethington (AUGIE) 8-4 |