October 12, 2010
2010-11 Season - 2010-11 MEN'S BASKETBALL PREVIEW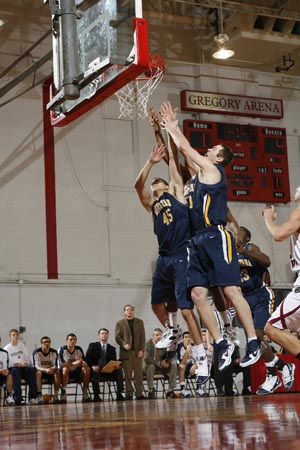 The Vikings return four starters and 13 letterwinners from a squad that finished the 2009-10 season with a 16-10 overall record.
GENERAL INFORMATION
NAME: Augustana College
CITY/ZIP: Rock Island, Illinois 61201
FOUNDED: 1860
NICKNAME: Vikings
SCHOOL COLORS: Blue & Gold
ARENA: Carver PE Center (1971)
CAPACITY: 1,900
ATHLETIC AFFILIATION: NCAA Division III
RELIGIOUS AFFILIATION: Evangelical Lutheran Church in America (ELCA)
CONFERENCE: College Conference of Illinois & Wisconsin (CCIW)
PRESIDENT: Steven Bahls
ATHLETIC DIRECTOR: Mike Zapolski
ATHLETIC DEPARTMENT PHONE: (309) 794-7521
BASKETBALL HISTORY
FIRST YEAR OF BASKETBALL: 1901
OVERALL ALL TIME RECORD: 1334-863 (.607) in 105 years
CCIW CHAMPIONS: (12) 1963 - 1971 - 1972 - 1973 - 1974 - 1981 - 1982 – 1993 – 2003 – 2006 – 2007 – 2008
NCAA DIVISION III PLAYOFF APPEARANCES: 11 (2008 – Midwest Regional Finals; 2007 – Midwest Regional; 2006 – Sweet Sixteen; 1993 - Final Four 2nd; 1983 - West Regional; 1982 - Elite Eight; 1981 - Final Four 2nd; 1980 - Midwest Regional Finals; 1977 - Midwest Regional; 1976 - Final Four 3rd; 1975 - Final Four 3rd)...NCAA Division III playoff record 23-11 with four Final Four appearances.
NAIA PLAYOFF APPEARANCES: Five (1974 - Elite Eight; 1973 - Final Four 3rd; 1972 - Elite Eight; 1940 - First Round; 1939 - Second Round)...NAIA playoff record is 15-5 with one Final Four appearance.
NCAA COLLEGE DIVISION PLAYOFF APPEARANCES: Four (1971; 1963; 1960; 1959)...NCAA College Division playoff record is 0-8.
UNITED STATES OLYMPIC TRIALS APPEARANCE: One (1936)...Lost in second round...Olympic Trials record is 1-1.
OVERALL POST SEASON RECORD: 39-26.
SPORTS INFORMATION
SPORTS INFORMATION DIRECTOR: Dave Wrath
SID OFFICE PHONE: (309) 794-7265
WRATH'S CELL PHONE: (309) 737-5306
SID FAX: (309) 794-7525
SID MAILING ADDRESS: Dave Wrath, Sports Information Director, Carver PE Center, Augustana College, Rock Island, Illinois 61201
E-MAIL: davewrath@augustana.edu
INTERNET ADDRESS: www.augustana.edu
COACHING STAFF
HEAD COACH: Grey Giovanine (Central Missouri 1981)
GIOVANINE'S AUGUSTANA RECORD: 199-89 (.691) in 11 years at Augustana; 103-51 (.669) in the College Conference of Illinois & Wisconsin. Giovanine has a 279-174 (.616) overall collegiate coaching record after compiling a mark of 80-85 in six years at NCAA Division I Lamar. He rebuilt the Cardinal program, going 47-37 in his last three years after posting a 33-48 record in his first three years at the Beaumont, Texas school.
BASKETBALL OFFICE PHONE: (309) 794-7254
BEST TIME TO REACH GIOVANINE: Monday through Friday 8:00 am until 12:00 noon.
ASSISTANT COACH: Tom Jessee (Augustana 1991)
ASSISTANT COACH: Larry Schulte (Northwestern Oklahoma)
ASSISTANT COACH: Dallas Duwa (Northeast Missouri State)
TRAINER: Rochel Rittgers (Northern Iowa 1981)

TEAM INFORMATION
2009-10 RECORD: 16-10 (.615) overall; 9-3 (.750) at home; 7-7 (.500) on the road.
2009-10 CCIW RECORD: 9-5 (.643) for fourth place in league; 4-3 (.571) at home and 5-2 (.714) on the road.
LETTERWINNERS RETURNING/LOST: 13/One
STARTERS RETURNING: Four—Kyle Nelson (Deerfield HS, Deerfield, Ill.), 6-9, 230, Sr...Co-captain...First team All-CCIW...14.7 pp...7.7 rpg...60.2% FG...34 assists...18 steals...Brian DeSimone (Buffalo Grove HS, Wheeling, Ill.), 6-1, 182, Jr...6.7 ppg...2.7 rpg...80.3% FT...85 assists...30 steals...Troy Rorer (Bettendorf HS, Bettendorf, Iowa), 6-2, 195, Jr...6.3 ppg...4.0 rpg...48 assists...24 steals... Kameron Norton (Downers Grove North HS, Downers Grove, Ill.), 6-6, 215, So...4.5 ppg...4.6 rpg... 52.5% FG...19 blocked shots...20 steals.
STARTERS LOST: One –Matt Pelton (Bloomington Central Catholic HS, Bloomington, Ill.), 6-3, 205...Third team ESPN/CoSIDA Academic All-America...Second team All-CCIW...12.3 ppg...3.1 rpg...35.2% 3P...83.9% FT...61 assists...42 steals.
KEY NON-STARTERS RETURNING: Chris Anderson (West Carroll HS, Mount Carroll, Ill.), 6-4, 191, Jr...7.0 ppg...1.6 rpg...45.3% FG...43.3% 3P...71.0% FT...19 steals...Mike Avallone (Neuqua Valley HS, Naperville, Ill.), 6-4, 200, Sr...3.7 ppg, 0.9 rpg...Drew Croegaert (Geneseo HS, Geneseo, Ill.), 6-2, 178, Sr...George Dexter (Bettendorf HS, Bettendorf, Iowa), 6-7, 201, So...3.6 ppg...3.2 rpg...47.1% FG... Griffin Dwyer (Hersey HS, Arlington Heights, Ill.), 6-2, 182, Jr...Missed almost all of last season due to injury...Brandon Kunz (Lake Zurich HS, Lake Zurich, Ill.), 6-7, 202, So...4.7 ppg...3.3 rpg...61.1 FG%...Eric Safranski (Putnam County HS, Mark, Ill.), 6-0, 181, Jr...Luke Scarlata (J. Sterling Morton HS, Berwyn, Ill.), 6-9, 239, So...2.2 ppg...2.3 rpg...Bryant Voiles (Bryon HS, Byron, Ill.), 6-9, 205, Jr......Co-captain...Missed all but three games last season due to injury...10.0 ppg...5.0 rpg...73.3 FG%... 57.1 3P%.
2009-10 AUGUSTANA SUPERLATIVES
CCIW TOURNAMENT PARTICIPANTS: Fifth consecutive year—only school to qualify for every CCIW tournament.
ALL-TIME D3HOOPS NATIONAL RANKING: There have been 154 top 25 polls by D3hoops.com since the start of the 2000-01 season…During that time Augustana has been ranked in the top 25 a total of 71 times…The Vikings have either been in the top 25 or in the "others receiving votes" category in 111 out of those 154 polls...This year's team spent five weeks ranked in the top 25 with a high water mark of 15th in week two.
CCIW ALL-CONFERENCE: Kyle Nelson (First Team)…Matt Pelton (Second Team).
ESPN The Magazine Academic All-American: Matt Pelton (Third Team).
CCIW TEAM STATISTICAL LEADERS: Augustana led the CCIW in scoring defense (59.4 ppg)...field goal defense (.423)... three-point field goal defense (.320)...rebounds (34.1 rpg)...defensive rebounds (23.43 per game)...fewest opponents' rebounds (27.9 per game) and rebound margin (+6.2 per game).
2009-10 MEN'S BASKETBALL AWARDS
Most Valuable Player: Matt Pelton
Best Defender: Matt Pelton
Leading Rebounder: Kyle Nelson
2009-10 Captain: Matt Pelton
2010-11 Captains-Elect: Kyle Nelson, Bryant Voiles
Junior Varsity MVP: Eric Safranski
2010-11 PROSPECTUS:
The return of 13 letter winners from a year ago and another successful overseas trip this summer have hopes high for the Augustana men's basketball team in 2010-11. The Vikings went 16-10 a year ago, finishing fourth in the CCIW at 9-5.
Senior big man Kyle Nelson leads the returnees. He was a first team All-CCIW selection last season and a pre-season honorable mention All-America pick by The Sporting News this year. Joining him will be forward Bryant Voiles, who last year missed all but the season's first three games with an injury. Junior point guard Brian DeSimone, who started 25 of 26 games last year and led all of the returnees in minutes played, figures to join Nelson and Voiles in the starting lineup.
Junior wings Chris Anderson and Troy Rorer are candidates for starting spots as well, along with a talented group of sophomore frontcourt players who gained valuable experience last year. Those include George Dexter, Brandon Kunz, Kameron Norton and Luke Scarlata, each of whom started multiple games in 2009-10.
Senior guards will Mike Avallone and Drew Croegaert augment a deep Viking bench along with juniors Eric Safranski and Griffin Dwyer. Dwyer missed almost all of 2009-10 with an injury, but impressed the coaching staff with his play this summer.
The Vikings will again face a tremendous schedule with potentially 10 games against teams that reached the 2010 NCAA tournament, including eight against opponents ranked 22nd or higher in the final D3Hoops.com poll. Highlights will be home dates with Washington University, UW-Whitewater and Anderson as well as a trip to St. Norbert's holiday tournament. St. Norbert is rated 5th in the nation by The Sporting News in its pre-season Division III rankings. The CCIW portion of the slate will include home-and-home dates with Carthage, Illinois Wesleyan and Wheaton—all of whom reached the NCAA tournament last year.