October 9, 2010
2010 Season - Vikings drop two at Cornell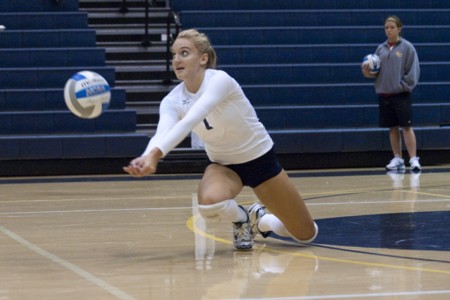 A combined 20 kills and 20 digs from Courtney Jungnickel weren't enough to keep the Vikings from falling to both Cornell and Clarke Saturday in Mount Vernon, Iowa.
Mount Vernon, Iowa-Coach Jamie Walters' young Augustana volleyball team wasn't able to maintain the momentum it had gained from winning four of its last five matches, falling Saturday in four games to host Cornell and in three games to Clarke. The Vikings are now 9-15 in 2010.
Augustana won its opening game of the day 25-21 against Cornell, but the Rams came back to take the next three by scores of 25-18, 26-24 and 25-19.
Senior outside hitter Courtney Jungnickel (Naperville Central HS, Naperville, Ill.) recorded a team-best 13 kills in the match as well as four aces and 12 digs. Setters Kelsey Mikula (Coal City HS, Coal City, Ill.), a sophomore, and Katrina Colclasure (Tri-Valley HS, Bloomington, Ill.), a freshman, each had 17 assists and sophomore libero Shannon Slick (Rockton Hononegah HS, Roscoe, Ill.) was credited with 18 digs.
Sophomore middle blocker Sarah Williams (Rockford Lutheran HS, Rockford, Ill.) and freshman outside hitter Stephanie Huber (Sycamore HS, Sycamore, Ill.) were efficient on the attack. Williams sported a .353 attack percentage with seven kills against just one error while Huber had a 5-to-1 kill-to-error ratio and a .308 percentage.
In the Vikings' second match, Clarke took care of things early, winning the first two games 25-18 and 25-16 before clinching the match with a 25-23 win in the third.
A bright spot for Augustana was the play of freshman middle hitter Anna Rusch (Central HS, Davenport, Iowa). Seeing her first varsity action, Rusch had six kills against just two errors in compiling a .286 attack percentage. Despite playing in just two of the three games, her kill total was just one off Jungnickel's team-leading seven. Colclasure recorded 22 assists and Slick had 14 digs. Jungnickel added eight digs as well.
The Vikings, currently 3-1 in the CCIW, jump back into conference play on Tuesday, October 12 when they'll travel to Elmhurst for a 7:00 p.m. match versus the Bluejays.