October 9, 2010
2010 Season - Vikings finish fourth at Wartburg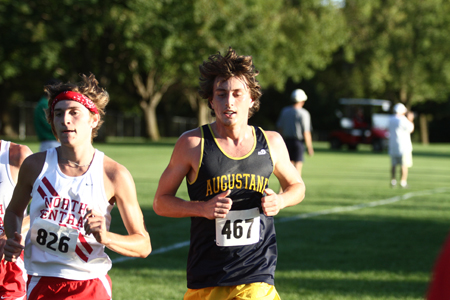 Matt Bowman finished 11th individually to help the 13th-ranked Augustana Vikings to a fourth-place team finish at Wartburg's Dan Huston Invitational Saturday.
WAVERLY, Iowa - Led by an 11th-place finish from Matt Bowman (Geneva HS, Elburn, Ill.), Coach Paul Olsen's 13th-ranked Augustana cross country team brought home fourth place at Saturday's Dan Huston Invitational at Wartburg College. Wisconsin-Whitewater claimed the team title while Colorado College, which finished second, had the individual winner in Jackson Brainerd, who covered the eight-kilometer course in 24:59. Wabash finished third.
The senior Bowman ran a 26:22 and teammate Brian Pollastrini (York HS, Elmhurst, Ill.), a sophomore, was just four seconds behind in claiming 15th place. Next up for the Vikings was sophomore Nathan Smith (Fenton HS, Bensenville, Ill.), who finished 38th in a time of 26:59, junior Mike Tisza (Hersey HS, Prospect Heights, Ill.), who was 42nd with a 27:08 and junior Billy TenBusch (Prairie Ride HS, Cary, Ill.), who ran a 27:19 to take 49th.
Sophomore Tommy Harris (Assumption HS, Davenport, Iowa) and freshman Matt Cwiock (Mt. Prospect, Ill.) rounded out the Viking top seven. Harris was 61st in a time of 27:32 and Cwiock ran a 27:45, good for 71st.
Freshman Mitch Dietrich (Notre Dame HS, Quincy, Ill.) edged out senior teammate Tim Faith (Glenbrook South, Glenview, Ill.) for a top 100 finish. Dietrich's 28:26 was one second ahead of Faith, who finished 101st. Next for Augustana were three freshmen. Kevin Gray's (Batavia HS, Batavia, Ill.) time of 28:57 garnered him 126th place while Alex Stockwell (Glenbard West HS, Glen Ellyn, Ill.) was 134th in 29:04 and Carlisle Evans-Peck (Geneseo HS, Geneseo, Ill.) 142nd in 29:17.
Senior Lucas Westblade (Will Carlton Academy, Hillsdale, Mich.) and junior Ryan Bertram (Neuqua Valley HS, Bolingbrook, Ill.) also finished in the top 150. Westblade ran a 29:21 to take 145th and Bertram finished 148th in a time of 29:23.
Augustana heads to Oshkosh, Wisconsin on Saturday, October 16 to compete in the UW-Oshkosh Invitational at 10:30 a.m.