October 9, 2010
2010 Season - Vikings win third in a row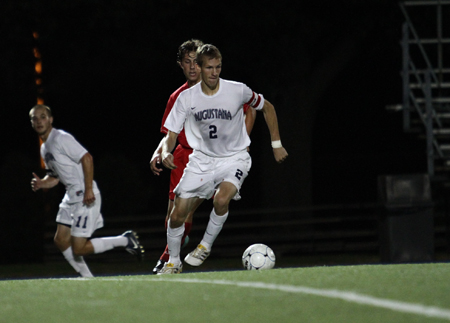 Sean O'Malley's first goal of the season would be all the scoring the Vikings would need as they defeated Millikin 1-0 for their third consecutive win.
DECATUR, Ill. - Sean O'Malley's (University HS, Bloomington, Ill.) goal off a corner kick in the 23rd minute would be all the Augustana Vikings would need Saturday, downing the host Millikin Big Blue by a score of 1-0 in Decatur. With their third straight win, the Vikings improve to 2-0-0 in the CCIW and 5-6-1 overall. Millikin drops to 4-6-1 overall and 0-1-1 in the conference.
O'Malley's goal was one of just four Augustana shots in the game, and the only one on goal. Millikin on the other hand got off eight shots, four of which were on goal. Viking freshman goalkeeper Tyler Cowherd (Bettendorf HS, Bettendorf, Iowa) stopped all four, posting his second consecutive shutout.
Augustana did hold a 4-1 edge in corner kicks with the most important being Kevin Wyrostek's (Naperville North HS, Naperville, Ill.), which set up O'Malley's score.
Augustana hosts Beloit on Tuesday, October 12 at 7:30 p.m. at Ericson Field.