October 9, 2010
2010 Season - Vikings win 4-2 at Millikin to stay unbeaten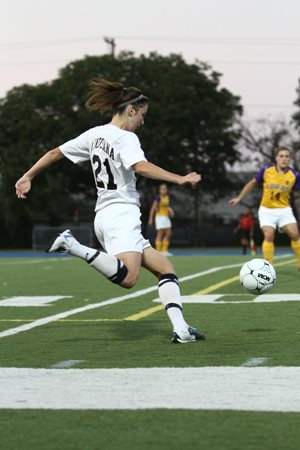 Jessica Dodds scored twice Saturday as Augustana remained unbeaten with a 4-2 win at Millikin.
DECATUR, Ill. - Despite giving up twice as many goals as it had allowed all year coming in, Augustana came away with a road win Saturday at Millikin. The 7th-ranked Vikings defeated the Big Blue 4-2 to improve to 10-0-2 overall and 2-0-0 in CCIW play. Millikin suffered just its second loss of the season and fell to 8-2-1 overall and 1-1-0 in the league.
The Vikings' Taylor Moesle (Sandburg HS, Orland Park, Ill.) scored her team-leading ninth goal of the season in the game's fifth minute and Tanya Romano on Millikin answered two and a half minutes later to even the score at 1-1. Romano's goal was just the second allowed by the Vikings this season. A pair of Jessica Dodds (Linn-Mar HS, Marion, Iowa) goals in the 29th and 35th minutes gave Augustana a 3-1 edge at the half. The goals were Dodds' fourth and fifth of the season.
In the second half, Caitlin Winkelman (St. Charles North HS, St. Charles, Ill.) scored her third of the year off a corner kick in the 71st minute to extend the advantage to 4-1 before Jessica Hoefert's fourth of the season for Millikin with just 32 seconds remaining accounted for the final margin.
The Vikings are at home on Wednesday, October 13, to host Edgewood in a 6:00 p.m. match at Ericson Field.