October 8, 2010
2010 Season - Hottle leads way at Mustang Open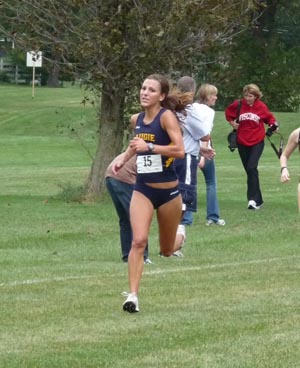 Hannah Hottle placed 16th to lead the Vikings to a third place team finish at the Mustang Open at Western Ontario Invitational on Thursday, October 7.
A balanced effort, led by Hannah Hottle's (Monmouth-Roseville HS, Monmouth, Ill.) 16th place finish, was the key Thursday as the Augustana cross country team claimed third place at the Mustang Open in London, Ontario. Hottle, a senior, covered the 4-kilometer course at London's Gibbons Park in 15:41.
Augustana's top five finishers grabbed spots 16 through 27. Sophomore Theresa Coverick (Stagg HS, Palos Park, Ill.) finished two seconds behind Hottle, taking 18th place. The Vikings nailed down spots 25 through 27 as well with sophomore Tara Bistry (Joliet Catholic HS, Shorewood, Ill.) finishing in 16:02, sophomore Sarahbeth Jones (Warren Township HS, Wadsworth, Ill.) running a 16:07 and freshman Kelsey Stockert (Peoria Notre Dame HS, Mapleton, Ill.) a 16:12.
Another freshman, Emma Grandgeorge (Sycamore HS, Sycamore, Ill.), and senior Brittany Prazak (Naperville North HS, Naperville, Ill.) rounded out the Augustana top seven, taking 31st and 38th place, respectively. Grandgeorge finished in 16:15, while Prazak ran a 16:33.
An additional seven Vikings ended up in the top 50. Senior Katie Ries (Regina HS, Iowa City, Iowa) was 40th in a time of 16:42 and freshman Kristen Whiteside (Zion-Benton HS, Winthrop Harbor, Ill.) finished 42nd, running a 16:46. Katie Kornaus (Portage HS, Portage, Wis.), Kristillyn Pohlman (Zion-Benton HS, Winthrop Harbor, Ill.), Anita Maurer (Downers Grove North HS, Downers Grove, Ill.) and Kelsey Moon (Mundelein HS, Wauconda, Ill.) took spots 44 through 47. Kornaus, a freshman, was clocked at 16:48 and Pohlman, a sophomore, at 16:53 while Maurer, a senior, ran a 16:58 and the freshman Moon a 16:59. Sophomore Jennifer Prazak (Naperville North HS, Naperville, Ill.) was 49th in 17:07.
Local runner Leslie Sexton was the individual winner in a time of 14:58, while the host Western Mustangs had five top ten finishers and claimed the team title with 27 points. Fanshawe College was second with 46 points, ahead of Augustana's 81.
Coach Fred Whiteside's Vikings will next be in action at the Bob Tucker Invitational in Dubuque, Iowa at 11:00 a.m. on Saturday, October 16.