October 7, 2010
2010-11 Season - Vandersee named Player of the Week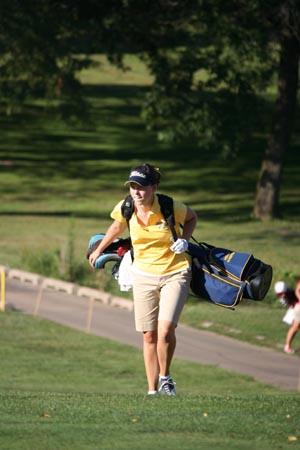 Sophomore Megan Vandersee was selected as the "Player of the Week" for women's golf in the CCIW. She finished second in the Clarke Invitational last weekend.
Augustana sophomore Megan Vandersee (Sterling HS, Sterling, Ill.) has been selected as the "Player of the Week" in women's golf by the College Conference of Illinois & Wisconsin, it was announced today. Vandersee finished second in the Clarke Invitational on Sunday, October 3 with a score of 80.
She had a consistent round with scores of 40 on both the front and back nine and she helped the Vikings to a third place finish in the team standings with a team total of 359. The Vikings placed behind Viterbo, which won the meet with a score of 345 and Ashford, which took second with a score of 350. Vandersee was second individually behind the winning score of 78 that was posted by Chelsey McCoy of Viterbo.
Vandersee has been remarkably consistent this season, finishing in the top five in a total of three tournaments. She won the St. Ambrose Fighting Bee Classic on September 18-19 at Glynn's Creek and Emeis Golf Courses in Eldridge and Davenport, Iowa respectively. She was second at the Augustana Quadrangular on August 28 and then second again last week at the Clarke Invitational. She finished eighth at the Wisconsin-Platteville Invitational on September 25-26 at House on the Rock Golf Club in Dodgeville, Wisconsin.
She has played in a total of 11 rounds (eight tournaments) this fall and has an average of 87.2 with a low round of 79, which she shot on the first day of the St. Ambrose Fighting Bee Classic.
The daughter of Doug and JoEllen Vandersee of Sterling, Illinois, Megan is a chemistry and secondary education major. Last year she was named to the National Golf Coaches Association "Scholar-Athlete Team".