October 7, 2010
2010 Season - Unbeaten Vikings jump to seventh in NCAA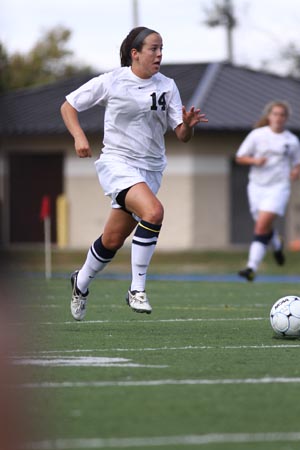 Kelly Johnson has been an integral part of an Augustana defense that has allowed just one goal in 11 matches. The Vikings are 9-0-2 and have moved to seventh in the NCAA Division III national poll.
An undefeated season through 11 matches has propelled Augustana to seventh in the latest NCAA Division III national women's soccer poll. The Vikings of head coach Scott Mejia are currently 9-0-2, including an impressive 5-0 victory over Wisconsin-Whitewater on Tuesday, October 5 at home.
Augustana is 1-0 in the College Conference of Illinois & Wisconsin and will play on the road on Saturday, October 9 against Millikin in Decatur, Illinois. So far the Vikings have allowed just one goal in 11 contests, that coming in a 2-1 win at the University of Dubuque on September 29.
Last week Augustana was 10 th but wins over Dubuque (2-1 on September 29) and Carthage (1-0 on October 2) helped the Vikings jump three spots. Juniors Ashley Higuchi (Smoky Hill HS, Aurora, Colo.) and Kayla Radloff (West Chicago HS, West Chicago, Ill.) were named "Players of the Week" in the CCIW for their play last week. Higuchi was the offensive honoree while Radloff won the defensive award.
2010 NCAA DIVISION III WOMEN'S SOCCER RANKINGS
Compiled by National Soccer Coaches Association of America *** as of October 6, 2010
| | | | |
| --- | --- | --- | --- |
| RANK | TEAM | PREV. | RECORD |
| 1 | Messiah (PA) | 1 | 9-0-0 |
| 2 | College of New Jersey | 2 | 11-0-0 |
| 3. | Hardin-Simmons | 3 | 9-0-0 |
| 4. | Illinois Wesleyan | 4 | 11-0-0 |
| 5. | Otterbein | 5 | 8-0-1 |
| 6. | Wisconsin-Stevens Point | 9 | 10-0-0 |
| 7. | AUGUSTANA | 10 | 9-0-2 |
| 8. | Loras | 13 | 9-1-0 |
| 9. | Williams | 8 | 5-2-1 |
| 10. (tie) | Johns Hopkins | 6 | 9-2-0 |
| 10. (tie) | Ithaca | 19 | 6-2-0 |
| 12. | Trinity | 15 | 7-1-0 |
| 13. | Emory | 14 | 8-0-2 |
| 14. | William Smith | 7 | 7-2-2 |
| 15. | Brandeis | 18 | 8-1-1 |
| 16. | Allegheny | 16 | 9-0-1 |
| 17. | Stevens Tech | 20 | 10-1-0 |
| 18. | Calvin | 12 | 8-2-1 |
| 19. | California Lutheran | 22 | 9-0-1 |
| 20. | Rowan | 11 | 8-1-1 |