October 6, 2010
2010 Season - Men's Cross Country up to 13th in NCAA poll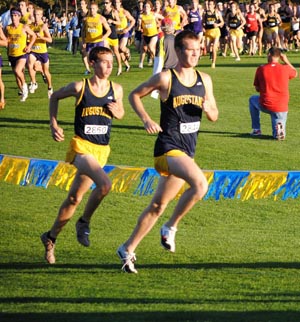 Brad Keating and Thomas Christian, shown here in action at the Brissman/Lundeen Invitational, are part of a Vikings' men's cross country team that is currently ranked 13th in NCAA Division III.
Despite being idle last week, Augustana moved one spot each in both the NCAA Division III national and Midwest Region polls in men's cross country. The Vikings are now 13 th in the nation and fifth in the Midwest Region after being 14 th and sixth, respectively, a week ago. The poll is conducted by the US Track & Field/Cross Country Coaches Association.
Head coach Paul Olsen's team will have a golden opportunity to prove itself this weekend (Saturday, October 9) at the Wartburg Invitational in Waverly, Iowa. That meet will serve as the pre-national meet because it will held on the same course that will host the NCAA Division III meet in November.
The Vikings were second at the Brissman/Lundeen Invitational on Friday, September 24 at Saukie Golf Course in Rock Island, Illinois, and after that Augustana made a huge jump in the NCAA Division III men's cross country national ranking. The Vikings went from 28 th to 14 th in the national poll. This week the Vikings accumulated 178 points in the national poll.
Augustana won the Western Illinois Invitational on September 3 in Macomb, Illinois and then placed fourth at the 32-team Illinois Intercollegiate Championships on September 17 in Normal, Illinois.
2010 NCAA DIVISION III MIDWEST NATIONAL CROSS COUNTRY POLL
conducted by the U.S. Track & Field and Cross Country Coaches Association (USTFCCCA)
as of 10/06/10
| | | | | | |
| --- | --- | --- | --- | --- | --- |
| RANK | SCHOOL | POINTS | REGION | CONFERENCE | LAST WEEK |
| 1. | North Central (8) | 280 | Midwest | CCIW | 1 |
| 2. (tie) | Washington | 266 | Midwest | UAA | 2 |
| 2. (tie) | Allegheny | 266 | Mideast | NCAC | 3 |
| 4. | SUNY-Geneseo | 257 | Atlantic | SUNYAC | 5 |
| 5. | St. Lawrence | 246 | Atlantic | Liberty | 8 |
| 6. | Haverford | 239 | Mideast | Centennial | 4 |
| 7. | Wisconsin-Platteville | 232 | Midwest | WIAC | 7 |
| 8. | Wisconsin-Stevens Point | 221 | Midwest | WIAC | 13 |
| 9. | Brandeis | 217 | New England | UAA | 9 |
| 10. | Calvin | 205 | Great Lakes | MIAA | 6 |
| 11. | NYU | 203 | Atlantic | UAA | 11 |
| 12. | Dickinson | 179 | Mideast | Centennial | 18 |
| 13. | AUGUSTANA | 178 | Midwest | CCIW | 14 |
| 14. | Carnegie Mellon | 176 | Mideast | UAA | 10 |
| 15. | Keene State | 169 | New England | Little East | 15 |
| 16. | Wisconsin-Whitewater | 155 | Midwest | WIAC | 17 |
| 17. | M.I.T. | 152 | New England | NEWMAC | 16 |
| 18. | Willamette | 149 | West | Northwest | 32 |
| 19. | Oberlin | 143 | Great Lakes | NCAC | 19 |
| 20. | Wisconsin-Eau Claire | 137 | Midwest | WIAC | 20 |
(first place votes in parentheses)