October 6, 2010
2010 Season - Higuchi, Radloff earn CCIW honors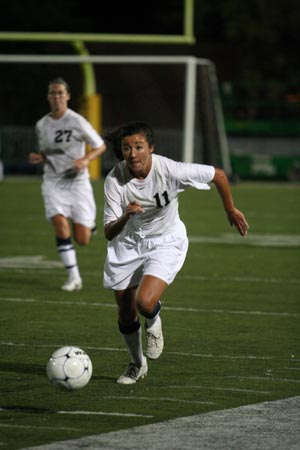 Ashley Higuchi was named the "Player of the Week" on offense in the CCIW on Wednesday, October 6. Teammate Kayla Radloff was selected as the "Player of the Week" on defense. Augustana is currently 9-0-2 on the season.
Augustana juniors Ashley Higuchi (Smoky Hill HS, Aurora, Ill.) and Kayla Radloff (West Chicago HS, West Chicago, Ill.) have been named "Players of the Week" in the College Conference of Illinois & Wisconsin for women's soccer, it was announced today. Higuchi was named the offensive "Player of the Week" and Radloff was the defensive "Player of the Week".
Higuchi scored a goal in each of the Vikings' victories last week as 10th ranked Augustana defeated Dubuque 2-1 on September 29 and Carthage 1-0 in the CCIW opener on October 2. She scored the first goal of the match against Dubuque just three minutes into the second half (48:32) to break a scoreless tie. She ended the match with four shots, two of them on goal. In the victory over the Lady Reds, Higuchi scored an unassisted goal in the 58th minute (57:59). She had two shots in the match and both of them were on-goal.
An English, philosophy and classics major, Higuchi is the daughter of Scott and Janile Higuchi of Aurora, Colorado. She has scored two goals and has a team-high three assists this year.
Radloff, an NCAA Division III All-American goalkeeper in 2009, recorded a total of seven saves and gave up just one goal in 180 minutes of work during Augustana's wins over Dubuque and Carthage last week. She had five saves in the match against Dubuque and then came up with a pair of saves in the win over Carthage. So far this season she has logged 810 minutes and allowed just one goal. Her goals-against-average is a miniscule 0.11 with 27 saves.
The daughter of Janet and Earl Radloff of West Chicago, Kayla is a secondary education and history major.
Augustana is currently 8-0-2 on the season and ranked 10th in the latest NCAA Division III national poll. The Vikings are 1-0 in the CCIW.