New harp studio to begin fall 2011
October  04, 2010
Sam Schlouch
Senior Communication Director
(309) 794-7833
samschlouch@augustana.edu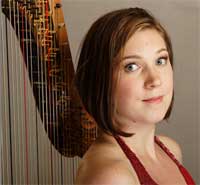 Erin Ponto
The Augustana College Department of Music will offer a new harp studio to begin fall 2011. Students will have the chance to study with Erin Ponto as well as take part in solo, chamber, and large ensemble performances.
Students may audition for Augustana Music Scholarships in this area.

Ponto has a master's degree from Northwestern University, and has extensive solo, chamber, and orchestral performance experience. In addition to teaching and performance, she is a composer and transcriber for harp, and evaluates instruments for the world-renowned Lyon & Healy harp factory.

Questions about scholarships may be directed to Margaret Ellis at (309) 794-7333 or margaretellis@augustana.edu.