October 3, 2010
2010-11 Season - Vandersee's second leads way at Clarke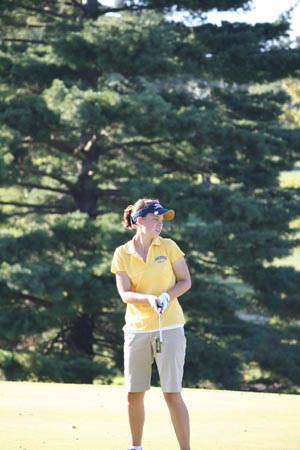 Megan Vandersee shot an 80 to place second individually at the Clarke Invitational on Sunday, October 3 at Thunder Hill Golf Course in Peosta, Iowa. Vandersee helped lead Augustana to a third place finish in the team standings.
Displaying remarkable consistency, Augustana sophomore Megan Vandersee (Sterling HS, Sterling, Ill.) finished second at the Clarke Fall Invitational on Sunday, October 3 at Thunder Hill Golf Course in Peosta, Iowa. Vandersee put together nines of 40 and 40 for a final score of 80, just two strokes behind individual champion Chelsey McCoy of Viterbo. Thanks in part to Vandersee's effort, the Vikings finished third in the team standings with a total of 359.
Viterbo won the 10-team event with a score of 345 while Ashford took second with a total of 350. Augustana was one stroke better than Grand View's fourth place of 360. Clarke (385), William Penn (389), Iowa Wesleyan (413), St. Ambrose (414), Augustana JV (418) and Ashford JV (425) rounded out the team scoring.
This is the third straight tournament that Vandersee has been the low scorer for the Vikings. She tied for first at the St. Ambrose Fighting Bee Classic on September 18-19 and was eighth last weekend (September 24-25) at the Wisconsin-Platteville Invitational. She has recorded three top five and three top 10 finishes individually so far this fall.
Junior Brittany Carr (Lincoln-Way East HS, Frankfort, Ill.) was also in the top 10 with a ninth place finish. Carr shot 89 with a front nine of 43 and a back nine of 46. Freshman Kelly Farina (Normal West HS, Bloomington, Ill.) was 15th with a score of 93 (46-47) while sophomore Morgan Wilkinson (Westmont HS, Westmont, Ill.) took 25th while firing a 97 (48-49).
Senior Jessica Berens (Schaumburg HS, Schaumburg, Ill.) was 29th with a 99 (50-49) and she was the final scorer for the Vikings' varsity. Freshman Jamie Lawrence (Moline HS, Moline, Ill.) was the top finisher for the Augustana junior varsity as she took 27th with a score of 98 (49-49).
Augustana will compete in the College Conference of Illinois & Wisconsin championship meet at Cantigny Golf Course in Wheaton, Illinois over a three day period from October 7 through October 9.