October 2, 2010
2010 Season - Vikings open CCIW play with win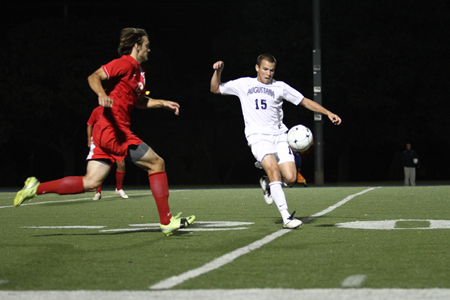 Sean Fidlow's third goal of the season spelled the difference as Augustana defeated Carthage 1-0 Saturday to open CCIW play.
ROCK ISLAND, Illinois - Sean Fidlow's (Carmel Catholic HS, Gurnee, Ill.) short-handed goal in the 76th minute gave Augustana a 1-0 win over Carthage in Saturday's CCIW opener at Ericson Field. With the win, the Vikings improve to 3-6-1 on the year and 1-0-0 in the CCIW. Carthage falls to 6-5-1 and 1-1-0 in league play.
Fidlow's third goal of the season came on an assist from Brett Bleecher (Marist HS, Oak Lawn, Ill.). It was Bleecher second helper of the year.
Augustana won the match despite being outshot by the Red Men 13-7. Nine of Carthage's shots were on goal compared to four for the Vikings. The Red Men also had a 2-1 edge in corner kicks.
Freshman goalkeeper Tyler Cowherd (Bettendorf HS, Bettendorf, Iowa) recorded his first full-game shutout for the Vikings, recording nine saves in the process. Cowherd turned back three shots each from Red Men Greg Pignataro and Tyler Peterson.
The Vikings will be at home again on Tuesday, October 5, when they'll face Knox in a 7:00 p.m. match at Ericson Field.